One of the recommended ways for getting knowledge of upcoming paper format or paper pattern concerning BS chemistry degree program is to use or consult bs chemistry past papers.
The previous exam papers or past papers 2023 provide valuable insight regarding the important questions provided by various educational boards and important recurring multiple-choice questions that students have to face every year.
Students can easily understand the various past paper patterns and prepare and plan their studies accordingly. Previous papers like BS chemistry past papers in Pakistan of Punjab university are very useful for students of Punjab University as instead of taking notes from seniors and spending their time towards the preparation of the non-important questions; they can plan and secure higher marks by studying boards previous past papers.
Students from various boards and universities can benefit from studying their relevant past papers to understand the various type of questions they will be facing in their final examination. Students of the government college science group can understand their most recurring questions by going through the BS chemistry past paper of gcu. Students can find all their required past papers on the following pages
Benefits and uses of BS chemistry past papers in Pakistan
Students can obtain various benefits by studying past papers as follows
Understand the complete paper pattern of previous examination papers.
Get understanding for previous important questions that students have face
Understanding of management and attempt of difficult and important questing
Better time management strategy understanding
Improving examination attempt speed through solving past papers.
Improving student subjects memory and revision of study materials material revision
Useful for taking test demo at your desired pace
Important for understanding the possible upcoming paper questions
Useful for attaining top grades and scores in board examinations by solving past papers.
Past Papers Frequently Asked Questions
Past Papers
Qualification Level
>
Boards / Universities
>
Class Level
>
Subjects
>
Years
>
Past Papers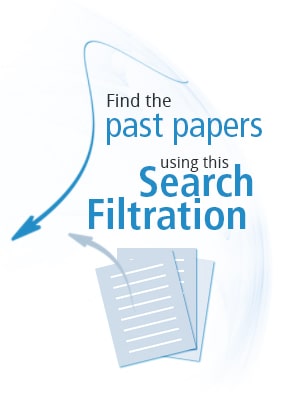 BS Chemistry