After a hard day's work, most people are looking for a way to escape, relax and take their minds off their jobs. There are countless ways to destress, but one of the best is to let yourmagination run free as you get lost in another world by listening to a great audiobook.
The Playster app gives users access to an extensive library of audiobooks from all types of genres. This means that you will not have to worry about finding something that you like -- they have titles for all tastes from major publishers, like HarperCollins, as well as from indie authors, courtesy of publishers like StreetLib. Even better, their streaming service is unlimited and the monthly price is extremely reasonable. Let's take a closer look at the perks of audiobooks and Playster.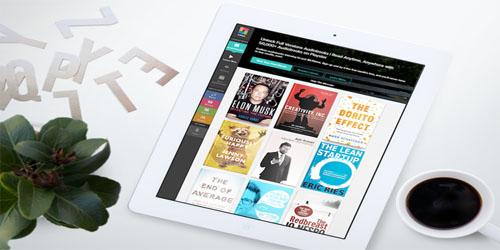 They're Entertaining and Engaging
The biggest benefit that comes along with the power of audiobooks is that they are extremely entertaining. You can kick back and relax as you get lost in the story, no matter where you are. Thanks to Playster's ad-free service, you can take full advantage of their catalog without any interruptions. And that's not all: Playster's service is also unlimited, so you can stream as many titles as your heart desires every single month. Our top picks? Audiobooks read by Hollywood's finest actors!
They Make Multitasking Easy
Reading an actual book takes a lot of commitment, which is why many people are forced to avoid them altogether. The time that it takes to finish an actual book is one of the biggest issues most time-strapped people have. But thanks to the magic of audio, rather than having to spending a couple of weeks on a book, you will be able to get through it in a couple of days.
If you listen to an audiobook, you will be able to do other things in the process. Saving an audiobook onto your smartphone or tablet from Playster will allow you to have it by your side at all times. This means that you will be able to commute to the office, work, cook -- you name it -- while listening to your chosen title. You will be able to get things accomplished without having to neglect the book you are currently enjoying -- talk about having the best of both worlds!
They Add Fun to Long Trips
Going on a long trip usually comes with a lot of downtime and not having anything to fill these moments of boredom can be frustrating. With Playster, rather than sitting in silence and staring out the window, you can put on a great audiobook (or listen to an album, watch a movie or play a game). With the selection that Playster has, you will be able to have a great audiobook chosen and entertaining you in no time at all.
By choosing a service like Playster, you will have no problem keeping your headphones filled with the best audiobooks on the market. What's more, they have an extensive library of all kinds of media, which also includes music, movies and games. All that for one low monthly fee.
You can learn more and sign up for a free 30-day trial by visiting thier website.
University Of Management And Technology Umt Lahore
249 Articles
171 Articles
79 Articles
Punjab University PU Lahore
57 Articles
Punjab University College Of Information Technology Lahore
56 Articles
Allama Iqbal Open University Aiou Islamabad
55 Articles