Superior University has achieved remarkable recognition in the Times Higher Education (THE) Impact Rankings 2023, solidifying its position as Pakistan's No.1 Private Sector University for Quality Education (SDG-4). Furthermore, it has earned a position within the world's top 101-200 universities and among the top 10 universities in quality education in Pakistan, along with securing an overall rank among the world's top 400 to 600 universities. It is worth mentioning that Superior University attained the position of Pakistan's Top Private Sector University last year also and this year's consecutive top position in quality education affirms the institute's high valued impact in enhancing the standards of higher education in the country.
The Visionary Leadership:
Under the visionary leadership of Prof. Dr. Sumaira Rehman, Superior University has undergone a revolutionary transformation in higher education practices. Dr. Rehman's commitment to quality education is evident in the implementation of modern pedagogical approaches, such as Course Learning Outcome (CLO) based teaching and Project Based Learning (PBL) strategies. These innovative methods have enhanced the curricula at Superior University, which ensures that graduates are equipped with the necessary skills to excel in the dynamic job market. The result of these innovative reforms can be seen through the fact that the employability ratio of Superior University graduates has risen from 70 per cent to an impressive 92 per cent.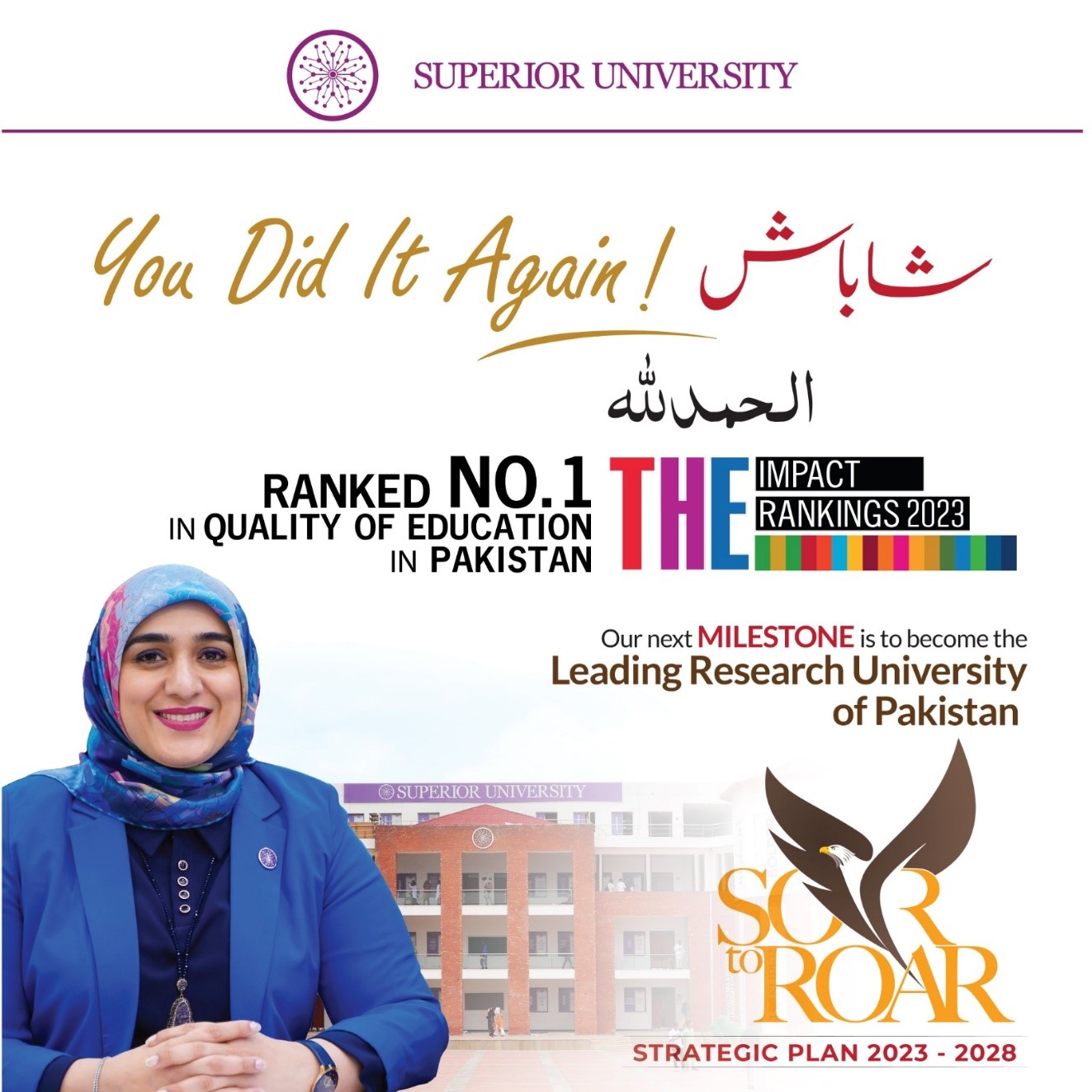 Global Recognition and Impact:
The recent recognition of being among the top 10 universities in Pakistan, and among the world's top 101-200 universities, is a testament to the university's dedication to academic excellence and research-driven initiatives. Furthermore, the university's emphasis on research and innovation has contributed to its growing reputation as a centre of excellence on an international scale.
The Strategic Roadmap:
Under the leadership of Dr. Sumaira Rehman, Superior University has outlined a forward-looking comprehensive five-year strategic plan, "Soar to Roar 2023-28." This ambitious roadmap aims to drive research excellence and make a greater socio-economic impact on the country. The plan prioritizes research, aiming to produce groundbreaking innovations for a greater and lasting socio-economic impact on society.
In addition to research, Superior University has introduced a new stream under the 3U1M program called "3U1M with Global Experience." This stream allows graduates to pursue a market-intensive year abroad, providing them with opportunities to launch startups or scale up family businesses in foreign countries. This superior evolution of global recognition is a motivating story ready to unveil global frontiers to transform human resources into human capital who will be able to contribute for the economic growth and contribute for economically Superior Pakistan.
Conclusion:
Superior University's global recognition as Pakistan's top private-sector university for quality education and its position among the world's top universities is a testament to the visionary leadership of Dr. Sumaira Rehman. The institution's commitment to academic excellence, research-driven initiatives, and forward-looking strategic roadmap are set to prepare market-ready graduates with successful careers and lives.
Superior University's unique initiatives position it as a leader in providing quality education and the key player in creating a positive socio-economic impact in the country with a mission to develop it into economically Superior Pakistan.
University Of Management And Technology Umt Lahore
249 Articles
171 Articles
79 Articles
Punjab University PU Lahore
57 Articles
Punjab University College Of Information Technology Lahore
56 Articles
Allama Iqbal Open University Aiou Islamabad
55 Articles