Who is the best CSS and PMS English essay teacher? Who is the best CSS and PMS precis teacher? Who is the best CSS and PMS English teacher? Which CSS and PMS English teacher can help me prepare essay and precis papers thoroughly? Who is the best CSS and PMS English teacher with the highest success rate? How to prepare English essays and precis papers for CSS and PMS exams? How to qualify for the essay and precis papers? Which academy is best for CSS and PMS preparation? What teacher should I join to learn writing skills? These are some questions that pop up in the mind of every CSS and PMS aspirant. However, serious aspirants search for them on Google or ask their seniors. On the other hand, nearly 80% of CSS and PMS beginners get trapped by shining and fascinating ads and videos by new qualifiers and officers or academies on Facebook, Instagram, and YouTube and fail their English papers straight away.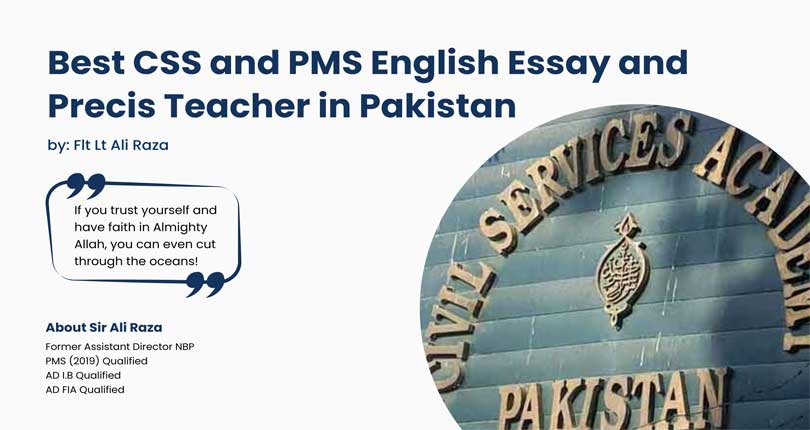 Whether it is the CSS, PMS, GRE, GAT, or GMAT exams, English has become a bone of contention for competitive and entrance exam students in Pakistan. That is why the English Essay and Precis are considered the most challenging subjects for the whole CSS and PMS journey, which thousands of aspirants undertake to get an allocation in Central Superior Services or Provincial Services. Being new to these papers' preparation, almost all CSS aspirants face multiple challenges. The most significant are inept and inexperienced English teachers. Nearly all the teachers we encounter on YouTube, FB, and Instagram are either new qualifiers with no grip on the English subjects or merely college-level English teachers who do not even know what communication skills are and what CSS and PMS aspirants need. Another frustrating fact is that no quality preparatory material is available for the compulsory and optional subjects. Among all other reasons, these two reasons have haunted the future of thousands every year. So, to qualify for these papers, nearly every serious and committed student is in pursuit of finding the best English writing mentor for himself. Although there are many experienced teachers across the country for English, the primary hurdle is finding out who will suit you and help you prepare the subjects thoroughly and teach you how to give your viewpoints a flow.
Let's come towards the article; some of my fellows and friends repeatedly ask me the same question: "What is the best way to crack English Essay & Precis Paper?" Although I have taken coaching from multiple academies and officers, I hardly recommend them to my friends, followers, and all other aspirants. But, before advising you people anything else, first, I must tell you what my mentor, Sir Syed Kazim Ali, taught me whenever I became depressed, shattered, and down during my preparation. "No academy, no person is here to attempt your paper in the exam; during the paper, only two powers manifest your success and future, and they are ALLAH and You, yourself". And I have noticed and experienced that trusting oneself and having complete faith in Allah Almighty are the only tools that decide one's destination. We, who are qualified in PMS, or any other competitive exams, are not born successful; we always make it through intelligent work.
I advise aspirants to seek guidance and proper English grammar and writing coaching if they think their grammar, sentence structuring, thought content, arguments, or writing is not good. To check your English level, buy Wren & Martin's or a Grad level English Grammar book and try to solve exercises before preparing a topic. It is the best way to judge your English Level. In the first case, if you score more than 60%, you are well prepared and need guidance from an expert or self-coaching.
In the second case, if you score less than 60% or between 20 to 40%, you really need an expert who can provide you with detailed and comprehensive lectures, practice questions and conduct tests topic-wise. Unfortunately, most students fail their English papers because they join teachers or academies without knowing their English level. With weak English basics, no English teacher can help you prepare for the essays and precis papers. So, always judge your English language and grammar status before deciding which teacher to join.
Every competitive aspirant must know that cracking English essays and precis papers and scoring high in other compulsory and optional papers in the CSS and PMS examinations revolve greatly around English expression and writing skills. Therefore, the better the command of the English language, the greater the chances of success. However, no matter how much knowledge you possess, from what university you are coming from, and how many subjects you have prepared, if you do not know how to present your viewpoints on a topic or issue relevantly and coherently, you can never make it. Thus, English writing skills distinguish you among thousands and help you materialize your dream of stepping into Pakistan's bureaucracy.
The relationship between English and aspirants' thoughts plays a crucial role in manifesting their fate in the CSS and PMS examinations. English is the only primary vehicle that transports your ideas to the examiners. Therefore, you should only start CSS and PMS preparation if you have a good grasp of English vocabulary, grammar, and writing skills. Otherwise, CSS or PMS will become a monster for you. Although I joined 2 to 3 known English teachers, the man who helped me learn English grammar and writing skills from basic to advanced levels is Sir Syed Kazim Ali, the best CSS English essay and precis teacher, with the highest success rate of his students. He was the only person who guided, taught, and put me on the track to success. Moreover, he helped me qualify not only for my English essay and precis papers but also for many exams, including PMS, One Paper Exams, and PMA and PAF Courses. However, before moving towards why I and every officer, author, writer, and aspirant praise Sir's teaching style, let me throw some light on who Sir Syed Kazim Ali is.
Who is Sir Syed Kazim Ali?
This person is a class in himself, kind, lovely, sincere, and has a father-like personality. He needs no introduction as every dedicated and serious aspirant already knew him because of Howfiv and Cssprepforum websites' contents. He is a well-known English language teacher in Pakistan and worldwide. He is an experienced and adept English writing coach who has turned hundreds of English learners into highly paid-bloggers and teachers worldwide. Moreover, Sir Kazim has been the country's top CSS and PMS English mentor because of his ways of teaching and imparting concepts to his students. His session helps competitive aspirants move their thoughts correctly, relevantly, confidently, and coherently. I joined him after wasting much of my time, money, and energy. If anyone of you is searching for an English teacher who doesn't only teach but equips you with a greater understanding of English Grammar and writing skills.
In that case, Sir Syed Kazim Ali is Pakistan's best English essay and precis teacher for CSS and PMS aspirants. For years, he has been the only CSS and PMS English teacher with the highest success rate of his students in essay and precis papers. He teaches English grammar, written communication skills, and thought content from the very basic to advanced levels. He enables his students to write sentences and expand their thoughts as long as an essay of more than 5000 words. Moreover, he checks and evaluates his students' write-ups religiously, which helps his students become confident, fluent, and errorless while expressing their thoughts on a particular topic. CSS and PMS solved past papers questions and essays are enough to let any serious aspirant know what he teaches his students and what his students turn after learning from him. The best part is that he teaches online. Unlike other teachers, another best part about him is that he takes a few students who qualify for his admission test to his courses. That means the class is always filled with serious aspirants. That is why his students are always seen qualifying for the CSS, PMS, Judiciary, One Paper Exams, or other competitive exams in Pakistan.
Let's explore why I and every officer, author, writer, and aspirant praise Sir's teaching style. The reasons are the following:
English Grammar from Basic to Advanced Levels

Vocabulary Building and Its Appropriate Usage

Writing Techniques, including Paragraphs, Articles, and Essays
English Grammar from Basic to Advanced Levels
English grammar plays a crucial role when it comes to differentiating between an ordinary and an extraordinary writer. Although I have thoroughly memorized Wren and Martin, Raymond Murphy, Sterling, Michel Shawan, and Martin Hewing's books, I didn't stop committing mistakes while writing sentences like a pro. The Grammar Sir Syed Kazim Ali taught me was far beyond Michel Shawan and Raymond Murphy's grammar. It took nearly two to three months to go through the entire English grammar with Sir Syed Kazim Ali. As an advanced English language teacher, Sir Syed Kazim Ali's grammar lectures are perfectly intended for serious competitive students in Pakistan. He helps students revise some of the more difficult points of grammar that students will have already studied, such as adjective clauses, appositives, interrupters, articles, capitalization, adverbials, phrases, and punctuation rules, errors, and uses. In his extensive English essay and precis session, he teaches 157 rules based on non-native senses by focusing on his students' weak areas. His taught grammatical patterns help students write sentences coherently, fluently, and confidently. His detailed lectures on grammatical contrasts, modal verbs, tenses with senses, and sentence articulation are known among thousands of Pakistani and international students. In a nutshell, in that session, I was taught grammar from the basic to the advanced levels in a way that I had prepared the English grammar notes that are still helping me in my life.
Vocabulary Building and Its Appropriate Usage
Next to grammar, the way Sir Syed Kazim Ali teaches his students to concentrate on the right and appropriate use of words sits him top among national and international English language teachers. According to him, words are the basic components of English communication, so understanding their function is paramount. In Pakistan, English teachers do not make their students concentrate on the structure of a language; consequently, competitive students who even score higher in Precis paper hardly score above 30 in their essay papers. However, the way Sir Syed Kazim Ali teaches the importance of appropriate vocabulary through his 500 to 700 vocabulary words is outstanding. He teaches students how to avoid writing inappropriate words - although they look correct to learners - contextually loose and expressively ambiguous. So, I must say Sir Syed Kazim Ali's vocabulary is a thousand times better than the vocabulary from GRE, GMAT, and other books.
Writing Techniques, including Paragraphs, Articles, and Essays
Writing suitable words, words to a paragraph, and a paragraph to a comprehensive and coherent essay is an art that has never been taught to Pakistani students in colleges and universities, especially in academies offering CSS and PMS preparation. Contrarily, we must know that the better the paragraph, the better the chances of qualifying for an English essay. Sir Syed Kazim Ali's way of teaching writing techniques helps students write fluently. His writing lectures are divided into two parts: teaching writing techniques and evaluating writings word for word. In the first two months, parallel to grammar and vocabulary coaching, he teaches students all the essential components of persuasive and laconic writing that help his students write sentences leading to paragraphs. The first part of his coaching consists of teaching students fundamental and complex sentence structures (17 structures that can give any of our thoughts words appropriately) with extensive practice and testing. The other part of his writing coaching is to help students develop thought content, gather information, and write freely. In this part, he teaches students the advanced writing process and paragraph writing, which can be easily gripped by extensive practice and evaluation. When paragraph writing is done, he starts teaching articles, blogs, and 20-mark questions writing, which always helps his students score maximum in compulsory and optional subjects. Last but not least, he makes his students write too much that at the end of five to six-month, every one of his students starts writing essays, precis, and comprehension grammatically correctly and persuasively.
Some More Advice to CSS and PMS aspirants
Remember, whether you are searching for a teacher for English or any subject for CSS and PMS, do some deep research instead of relying on catchy ads. Try to find teachers whose students and work are their credentials, not ads and videos on FB, Instagram, and YouTube.

CSS and PMS examination preparation can never be done in 3 to 4 months. Even the English papers, if you prepare well, can take up to 6 months. So, never join academies that claim 3 to 4 months preparation plan for all subjects.

Prefer professional and experienced teachers over new and qualified officers. An experienced teacher knows thousands of ways to help you prepare a subject well. On the other hand, an officer or qualifier, like me, just has tips and tricks. That sometimes works, but most of the time does not. Moreover, a professional teacher has nothing to do other than provide coaching, so he has time to sit with you and listen to the problems you face during preparation and address them accordingly.

Never try to cram outlines, introductions, and essays written by anybody else. An essay tests your comprehension and viewpoints about a specific topic, but when you cram others' stuff, they never work.

Give the English subjects their due importance because when you learn to give your thoughts written words, your preparation becomes a piece of cake; even you can prepare for other subjects by yourself.

Lastly, never buy books on a subject available in the market; most of them are copied from other websites or encyclopedias. Try to search for topics on Google and visit some international and reputed websites having relevant and updated information. This strategy always helps you score the best.
To conclude, I must suggest students and aspirants give time to learn English written communication skills before preparing for other optional and compulsory subjects. If you know writing your opinions and thoughts, you can even socre highly in all other subjects because they only require your viewpoints. To me, Sir Syed Kazim Ali, founder of Howfiv and Cssprepforum – is the best English teacher in Pakistan for CSS essays and precis papers, and he is the right choice for serious aspirants who really want to give their thoughts words. He knows how to turn natives into creative writers within months. Joining Sir Syed Kazim Ali's Online Extensive CSS and PMS English Essay and Precis Course was the decision that made me successful. Without any doubt, the only teacher who could claim the credit for my successful career is Sir Syed Kazim Ali. He was the person who didn't only encourage me but also made my journey successful. Although it took me 5 to 6 months to learn English writing skills, the result of it was really tremendous. I qualified for the PMS exam, and many descriptive exams in a single go just because of my writing skills, confidence, and rationality that I learnt from him.
About the author
Flt Lt Ali Raza is a Pakistan Air Force officer. He is the only luckiest person who qualified for multiple exams, including PMS, AD IB, AD FIA, IBP, PMA, and PAF, in a single go. Through his articles, he has guided and assisted CSS and PMS aspirants for years.
University Of Management And Technology Umt Lahore
249 Articles
171 Articles
79 Articles
Punjab University PU Lahore
57 Articles
Punjab University College Of Information Technology Lahore
56 Articles
Allama Iqbal Open University Aiou Islamabad
55 Articles