In spite of making statements about bringing important enhancements in higher education sector, Higher Education Commission in Pakistan has failed to take any action against illegal university of country. Presently, there are 185 universities in Pakistan that are not legal but performing their functions as legal universities and granting the degrees to the candidates.
The sources of HEC said that they had been taking their attempts to take a strong action against these unrecognized universities. However, some of these institutes are affiliated with government sector universities however all these universities are without the compulsory NOC of HEC. A senior officer of HEC said that if we seriously want to close the illegal institutes then we have to stop the funds of those government sector universities which gave them affiliation. He moreover said that, large number of those institutes is affiliated by the foreign institutes.
He also said that along with HEC, the provincial governors are also responsible for the growth of those universities. It is worth mentioning here that on 30th March 2015, a parliamentary panel also conveyed its apprehension over mushroom growth of business-oriented higher learning institutions in the entire state.
The Standing Committee of National Assembly on Federal Education as well as Professional Training met at Parliament House together with MNA Dr Zulfiqar Ali Bhatti in the chair.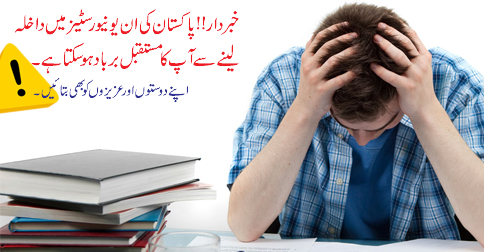 All the members of committee were of the interpretation that majority of the private institutes are operating in very small buildings, which destroy the charter of the university. They insisted HEC to take a strong action against all those institutes.
A representative of HEC said that they have been writing the letters to the universities asking them to get NOC or to close those universities. However their response is not good at all.
She moreover said that it is our responsibility to highlight these sorts of institutes and that's why on our official website we have put the names and ads of those institutes so that the parents can be well aware with these institutes. HEC sources also said that the quality of education had also been compromised because of the opening of these illegal institutes.
Another senior officer of HEC said that we are doing whatever we can do to enhance the quality of education in education sector, but whenever we take any strong action against these illegal institutes some origins begins the debate of restraining the role of education commission.
List of institutions not recognized by HEC
This list is dynamic and HEC will keep on updating it as the information updates become available.
S.No
University / Institute Name
Address

1
The Elites Univeristy
Sector 11-A, Hashim Town Sindh Karachi Housing Society, Scheme No 33, Karachi

2
American School of International Business
C-7/A, Daman e Koh, KDA Officers, Co-operatin Housing Society Opposite PNS, Bahadur STADIUM Road, Karachi

3
American World University International
22-A, Tipu Sultan Road, Karachi

4
Glamshire University
D-12/1, KDA Improvement Scheme, Opp Laiquat Library Adjacent Liaquat National Hospital, Stadium Road, Karachi

5
American International University
7 up Chowk, Gulberg III, Lahore

6
American University of Hawaii
981 Highway 80 East, Clinton, Mississippi 39056

7
East-West University
71, Jinnah Co-operative Housing Society Off Shahrah-e-Faisal, Near Duty Free Shop, Karachi

8
International University of America
D-47, Muhammad Ali Housing Society, Karachi

9
Western International Univeristy, Pakistan
C-41, Block 6, Gulshan-e-Iqbal, Nipa Chowrangi, Near Aero Club, Karachi

10
Washington Univeristy
532/1, Business Recorded Road, Garden East, Karachi

11
University of Southern Pakistan
Comit Campus, St 6B, Block-14 Gulshan-e-Iqbal, Karachi

12
University of Houston Clear Lake
D-77, Block 2, Clifton Opposite Bilwal House, Karachi

13
University of Economics & Technology
30 Block -A, Oppsite Mehren Clinic, Sindhi Muslim Society, Karachi

14
The Open International University for Complimentary Medicines
9-C, Block-2, Kashmir Road, PECHS, Karachi

15
Lincoln Institute
D-18, Block-8, Punjab Colony, Ch. Khaliq uz Zaman Rad, Clifton, Karachi

16
University of Islamic Study
Block-7, Ghulshan-e-Iqbal, Karachi

17
Agha Computers
Al-Noor Esquire, PICIC Bank Building, Mansehra Road, Abbotabad

18
Islamabad Computer Institute
College Road Jaba, Dargai

19
Flash Institute of Computer Studies
Sheikh Jee Plaza, Industrial Estate, Jamrud Road, Peshawar

20
Square Soft Systems
Kashmeery Bazar, Manzoor Market, Shinkiari

21
Aptech Computer Education Lahore
Tipu Block,New Garden Town, Lahore

22
Softlogix College of Information Technology
Lahore

23
TIU Institute
29-C/1, Gulberg III, Ghalib Road, Lahore

24
Pakistan College of Science & Technology
447-D, Peoples Colony, Faisalabad

25
AIMS Institute of Management Sciences
AIMS House 11 A, Opposite Pizza Hut, Gulgasht Multan

26
National Textile College of Professional Sceinces & IT Lahore
62-C/1 M.M. Alam Road, Gulberg 3, Lahore

27
Standard Institute of Emerging Technologies & Sciences (SIETS)
225-A-new Muslim Town, Lahore

28
Ali Garh Institute of Management Science (AIMS)
3-D Model Town, Club Road, Rahim Yar Khan

29
Mishigan International College
Lahore

30
The International University, USA
40-J/A, Block 6, PECHS, Shahrah-e-Faisal, Karachi

31
American International College
Faisal Town, Lahore, Punjab

32
American University of London
National College of Business Management and Technnology, 365-M, Model Town, Lahore, Punjab

33
Rawal Open International University of Alternative Medicine Pakistan
Gujar Khan, Rawalpindi, Punjab

34
INFOVISION Institute of Management and Information Technology
Lahore, Punjab

35
Islamia College of Commerece
Kot Ada, Muzzaffargarh, Punjab

36
Opstech College of Computer Science
Lahore, Punjab

37
CIT College
Majeed Plaza, Bank Road, Saddar, Rawalpindi, Punjab

38
Myer's Insitution of Technology
Myer's Avenue, Near Allied Park, Chakwal, Pujnab

39
College of Computer & Information Technology
Matta, Swat

40
Global College of Information Technology
College Road, Thana, Swat

41
Global College of Information Technology
Sohary, Buner, Swat

42
Aryan University
Jahangir Road, Peshawar

43
Institute of Advance Studies of Information Technology
Dadyal, AJ&K

44
Pak Kashmir Institute of IT
Mirpur, AJ&K

45
University College of Commerce
Peoples Colony, Khanewal

46
National College of Commerce
Mian Channu

47
Quaid-e-Azam College
Mian Channu

48
International College of Commerce
Mian Channu

49
Leads Law College
Burewala

50
Comstech Law College
Gulgasht Colony, Multan

51
Comstech Degree Collge
Gulgasht Colony, Multan

52
Pakistan Mission Law College
Neel Kot, Bosan Road, Multan

53
Lahore Univeristy of Computer Excellence
New Gorden Town, Lahore

54
Arqum College of Science & Arts
Court Road, Gujranwala

55
Cosmiq Institute of Technology
Cosmiq Complex, 54-Commercial Area, Cavalry Gorund Extensiion, Lahore Cantt

56
NICON College of Computer Sciences
447-D, Peoples Colony, Faisalabad

57
SINTEC System
North Star Plaza, Muree Road, Rawalpindi

58
Higher Education College
Peoples Colony, Faisalabad

59
National Textile College of Professional Sciences and IT
62-C/1 M.M, Alam Road, Gulberg-III, Lahore, Punjab

60
American School of London
Western Graduate College, St-20 Block-17, Gulshan-E-Iqbal, Karachi. Sindh

61
College Swiss Swithzerland
Domino Education Services, Karachi, Sindh

62
The International University of America
40-J/A, Block 6, Pechs, Shahrah-e-Faisal, Karachi, Sindh

63
Institute of Management Science and Arts
Latifabad, Hyderabad, Sindh

64
Mehran Institute of I.T.
Latifabad, Hyderabad, Sindh

65
National College of Computer Sciences
Bannu, North-West Forntier Province

66
National Group of Textile College
IC-1, MM Alam Road, Sir Syed stop, Gulberg III, Lahore

67
Pakistan Institute of Technology
Trust Plaza, GT Road, Gujranwala

68
The National College
Faisalabad

69
Exceisior College of Information Technology
Lahore

70
Microinn Technologies
Shami Road, Sheikhpura

71
Fashion Design Institute
Majeed Plaza, Bank Road, Rawalpindi

72
Michigan Internaitonal College
Lahore

73
National Textile College of Professional Sciences and IT
Hyderabad

74
University of East
Hyderabad

75
My University
Islamabad, Pakistan

76
The Dar-ul-Madina International University
Islamabad, Pakistan

77
South Asian Strategic Institute Univeristy
Street 1, House # 427, F-11/1, Islamabad

78
Capital University
Islamabad, Pakistan

79
Pakistan Institute of Management
Management House, Shahre-e-Iran, Clifton, Karachi

80
Lal Shahbaz University
N/A

81
Preston University, Faisalabad campus
Faisalabad

82
Baba Guru Nanak University
Nankana Sahib, Punjab, Pakisan

83
Qalandar Shahbaz University of Modern Sciences
Karachi, Pakistan

84
Karachi Institute of Technology and Engineering
Korangi Creek, Karachi

85
Shaheed Benazir Bhutto University of Veterinary and Animal Sciences
Sakrand District Shaheed Benazirabad, Sindh

86
NICON College of Computer Sciences
29/A, Officers Colony, Faisalabad

87
Preston University School of Business
7th Road, Satellite Town, Rawalpindi

88
Institute of Professional Studeis (Canal Campus)
4-A, New Muslim Town, Near New Campus Bridege, Lahore, 24-E-II near New French Center, Gulberg III, Lahore

89
College of Technical Education
Langlay Road, Lahore

90
College of Education
New Muslim Town, Lahore

91
Matrix Institute of Emerging Science
Gulber III, Lahore

92
Quaid-e-Azam College of Information Technology
Main Ferozepur Road, Lahore

93
Centre for Health & Population Studies
Chamba Line, Lahore

94
College of Business Administration
Gulberg III, Lahore

95
Lahore School of Information Technology
New Garden Town, Lahore

96
Proceed Institute of Management & IT
Gulber III, Lahore

97
Institute of Computer Technology
Gulber III,Main Ferozepur Road, Lahore

98
College of Business Administration
PAF Road, Sargodha

99
College of I.T.
6th Road, Satellite Town, Rawalpindi

100
University College
6th Road, Satellite Town, Rawalpindi

101
INFOVISION Institute of Management & Information Technology
Lahore

102
Shibly College of Commerece
Karor, Layyah

103
Khyber College of Commerce
Kot Sultan, Layyah

104
Pioneer College of Commerce
Kot Adu, Muzaffargarh

105
Global College
Kot Adu, Muzaffargarh

106
Abdul Kasim College
Taunsa, D.G. Khan

107
The National College
Bosan Road, Multan

108
National Group of Textile College
Near Civil Hospital, 45 Civil Lines, Gujranwala

109
Aptech Computer Education
Tipu Block, New Garden Town, Lahore

110
Kynat College of Commerce
Kot Sultan, Layyah

111
Allaid College of Commerce
Mian Channu

112
DG College
Tausan, D.G. Khan

113
Institute of Information Technology & Management
40/3 Jahanzeb Centre, Opp. Gakhar Plaza, Bank Road, Saddar Rawalpindi

114
Wah Institute of Management Technology
Sadat Plaza Lalaruk, the Mall Wah Cantt

115
Soft Vision Center of Information Technology
4-A, Muhammad Husssain, Model Town, Bahawalpur

116
University College of Inforamtion Technology
Jampur Road, Fareedabad Colony, D.G.Khan

117
SPIRIT Institute of Management & Computer Science
Nort Nazimabad, Karachi

118
Institute of Science & Management
Shaheed-e-Milat Road, Karachi

119
College of Computer & Management Studies
Block B, Latifabad, Hyderabad

120
College of Education
Management Science & I.T. Minara Road, Sukur

121
Chanab Institute of Information Technology, Shadab Colony
Opp. Canal Rest House, Jhang

122
College of Management & Information Technology
Mumtaz Plaza, Jinnah Road, Gujrat

123
Rawalpindi Institute of Technology
Ojri Camp, Murree Road, Rawalpindi

124
Multan Institute of Management Sciences
2-A Gulghast Colony, Boson Road, Multan

125
SYSTEX Institute of Technology
14-L, Model Town Extension, Lahore

126
ABACUS College
D-102 M.A.Road, Satellite Town, Rawalpindi

127
College of Advance Professional Studies
85-E, Farid Town Road, Sahiwal

128
LIONS College
3-A, Canal Colony, Farid Town Road, Sahiwal

129
College of Information Technology
Circular Road, Chowk Islamabad, Sialkot

130
American International University
46 Margalla Road, F-8/2, Islamabad

131
London College of Excellence
London College of Professional, near Askari Bank, F-10 Markaz, Islamabad

132
Al-Qasim University
38-D, Lawrence Road, Lahore

133
American University of London Western Graduate College
St-20 Block 17, Gilshan-e-Iqbal, Karachi

134
University College Sedaya International
109-B Gulshan-E-Faisal, Bath Islanad Clifton, Karachi

135
NICON College of Computer Sciences
24-School Road, F-8/4, Islamabd

136
College of Blobal Technologies
Peshawar Road, Rawalpindi

137
South Asia Institute of Management and I.T.
Hali Road, Westridge, Rawalpindi

138
UK College of Information Technology
Club Road, Muzafargarh

139
College of Management & I.T.
Lala Rukh, The Mall, Wah

140
Edycare College of I.T.
Baldia Road, Bahawalnagar

141
Sadiqabad Polytechnic Institute
Sadiqabad, Distt, Rahim Yar Khan

142
Al-Khair College of Commerece
Mian Channu; Al-Burhan Shopping Circle, 3rd Floor, Bld-B, on Top of Burger Time Restaurant Opp. Main Haidry Market, North Nazimabad, Karachi

143
College of Information Technology
C-562, Eid Gah Road, Sukkar; Campus Distt. Central Clock-E North Nazimabad, Karachi

144
College of Education
A-130 Block -E North Nizamabad, Karachi

145
College of Education
Gate No. 8, No.4 Mahmoodabad, Karachi

146
College of Administration & Computer Science
PECHS, Karachi

147
College of Management Science
Main Korangi Road, Karachi

148
Pakistan Institute of Proessional Science
Gulshan-e-Iqbal, Karachi

149
Leads Institute of Management Sciences
24-K, Gulberg-II, Lahore

150
Central College of Information Technology
5-E/4 850, Officer's Colony Boson Road, Multan

151
Pyramid Education Centre
D 135, Malik Abad Road, 6th Road, Satelite Town, Rawlpindi

152
Chanab Institute of Information Technolgy, Shadab Colony
Opp. Canal Rest House, Jhang
University Of Management And Technology Umt Lahore
249 Articles
171 Articles
79 Articles
Punjab University PU Lahore
57 Articles
Punjab University College Of Information Technology Lahore
56 Articles
Allama Iqbal Open University Aiou Islamabad
55 Articles