The commencement of Intermediate Admissions 2023 comes as exciting news for individuals seeking to propel themselves towards success. The campuses under the Superior Group of Colleges umbrella are well-equipped with state-of-the-art facilities, a dedicated faculty, and a holistic approach to education. Students are not only provided with classroom learning but also encouraged to engage in various co-curricular and extracurricular activities, fostering their overall development.
Prospective students are encouraged to submit their applications promptly to secure their spot in this esteemed institution. This is an opportunity to seize world-class education that can potentially open doors to a wide array of career options and personal growth avenues.
About Superior College
The Superior Group of Colleges emphasizes inclusivity, diversity, and academic excellence, ensuring that every student receives the support they need to thrive. The launch of Superior College Admissions 2023 is a testament to the institution's unwavering commitment to nurturing the next generation of leaders, thinkers, and professionals.
For those aspiring to a future filled with knowledge, achievement, and limitless possibilities, the time to act is now. Apply for intermediate admissions at the Superior Group of Colleges and embark on a transformative educational journey that could redefine your future.
Offered Programs
I.Com
FA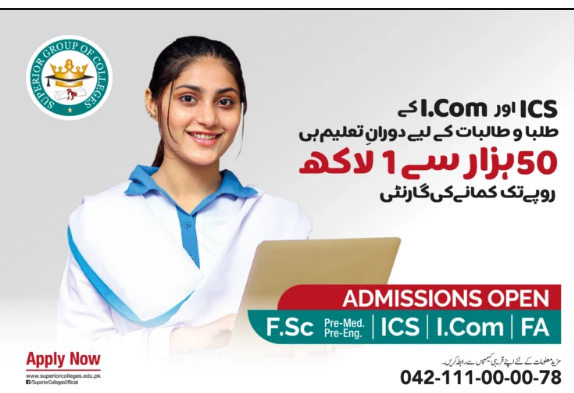 Free Admission Criteria
Secure Free Admission and Scholarships
For those seeking cost-free Pre-FSc admission, it's essential to register your name prior to the conclusion of the complimentary admission period.
To make the most of this chance, students are required to present their applications to the appropriate campuses before the designated deadline.
Required Documents
A single copy of the father or guardian's CNIC.
Three passport-sized photographs.
Two duplicates of the Matric/O-levels or latest result card.
Copy of the student's B-form or CNIC.
Download and retain the fee slip.
Ensure timely fee submission at banks to obtain your roll number from the admission office.
Application Process
To initiate your application, adhere to the following steps:
Access the Superior College website (https://www.superior.edu.pk/).
Retrieve comprehensive information from the site.
Select the "Apply Now" button.
Complete and submit your form, alongside the specified detailed information.