The Punjab government has announced to recruit 6864 teachers in the government schools. The male and the female teachers will be appointed in the primary, secondary, and higher secondary schools through Punjab Public Service Commission. According to the sources, the summary has been approved by the provincial government and the teachers will be recruited in the more than eight thousand schools of the Gujranwala region. It is said that the quota for the transgender has been reserved.
Recruitment of Teachers
It has been notified that the teachers will be appointed on the BPS-17 and BPS-18 scales. The teachers will be hired for the various subjects such as 1213 teachers will be selected for CSE arts and science, SE arts and science, PET 474 for Arabic drawing and computer science, and 130 for SSE arts, science, and computer science. On the vacant vacancies in the government of the various districts, the division for the recruitment of the teachers is such as 854 for Narowal, Sialkot 2069, Gujrat 1149, Mandi Bahauddin 579, and Hafizabad 402.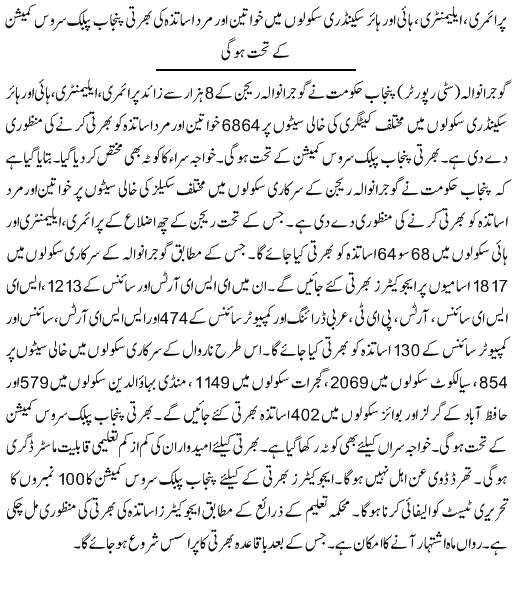 Selection Procedure
The candidates who intend to apply for the vacant positions of government teachers must have a master's degree. The candidates with the third division are not eligible to apply. It is mandatory for the candidates to meet the criteria mentioned by the PPSC. The candidates have to qualify for the test conducted by the PPSC on the basis of which their eligibility will be determined. According to the statement issued by the education department, the decision has been finalized for the recruitment and the advertisement will be issued soon for the candidates. After the announcement of the advertisement, the selection process will be started so that the commission can hire suitable and talented candidates. For further updates, stay in touch with ilmkidunya.com.