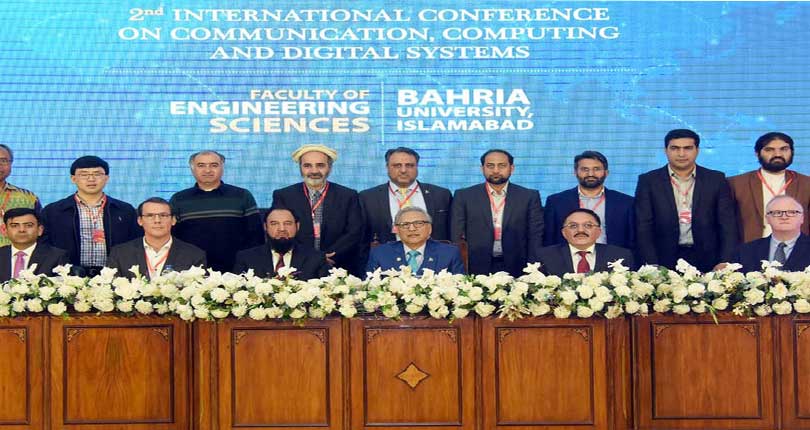 President Arif Alvi Attends International Conference Held at Bahria University Islamabad
News Submitted By: Ilm Ki Dunya

07-Mar-2019

Views: 682
President Arif Alvi attends International Conference on Communication, Computing and Digital Systems (C-CODE '19) on Wednesday at Bahria University Islamabad. Topics of digital communication, artificial intelligence, and high-end computing and information security were discussed at the inaugural session of the conference.
President Arif Alvi said Pakistani is country of youth and it is filled with talented people. He said Pakistani youth can progress greatly if they are given proper guidance and an appropriate platform and resources. He said, 'The youth of Pakistan will have the ability to demonstrate its capabilities and contribute tremendously for the betterment of the society". He said the industry demands skilled and intelligent individuals as their employees therefore it is up to institutions to train their alumni well for job markets. The youth need to keep pace with the progressing times and adopt revolutionary changes.
Bahria University Rector retired Vice Admiral Mohammad Shafiq addressed the conference by saying, ' the purpose of organizing this conference is to popularize idea of global citizenship among Pakistani youth which is need of today's era and it is time to transform nationalism to internationalism'. The main focus of the conference was to invite international research organizations, academia and industry under one platform to discuss phenomena of cyber security and share their knowledge and experience about it.
The students belonging to fields of mass communication courses, IT courses and digital marketing attended the conference. New innovations and impending challenges in the field of IT were discussed at the conference. The experts elaborated the students about opportunities in IT field they can avail in future. Technical sessions, question answer sessions and panel discussions were held.
Eminent international scholars who addressed the conference included and Dr Jaime Lloret from the Polytechnic University of Valencia, Spain, Prof Dr Jonathan Andrew Ware University of South Wales United Kingdom and Dr Gerhard Zucker from Austrian Institute of Technology.
A Two-Day Eco Summit 2019 Started at the University of Engineering and Technology (UET)
A two-day summit on environment named Eco Summit 2019 started at the University of Engineering and Technology (UET) on Wednesday. Through the platform of this summit academia and government have been gathered together to discuss the need of introducing innovative green technologies and finding indigenous solutions for healthy environment.
The organizers of summit include the Office of Research Innovation and Commercialization (ORIC) UET, Peshawar, National Bank of Pakistan and British Council and several other organizations. UET Vice-Chancellor Prof Dr Iftikhar attended the summit as the chief guest. While addressing at the summit the VC said,' the rapidly changing climate of Pakistan has also put serious challenges to the national development of Pakistan'.
The VC urged government personals, stakeholders, industry academia and members of Pakistani civil society to unite together and raise awareness regarding this impending problem of rapid climate change and come up with solutions to tackle it. Regional head of the NVBP(North), Saima Raheem said the government will fully support introduction environment-related initiatives in any way possible. She said under "Clean and Green Pakistan drive" NBP has planted 200,000 plants.