In the realm of higher education, the choice of a reputable college plays a pivotal role in shaping an individual's academic journey. If you're a student in Peshawar looking to pursue your intermediate education, the Peshawar Model Degree Colleges stand as a beacon of excellence and commitment to fostering future leaders. Building upon a legacy of academic excellence and a dedication to comprehensive growth, PMDC announces the Intermediate Admission 2023 to aspiring students.
Admission Programs
FA Computer Arts
FA General Science
FA Humanities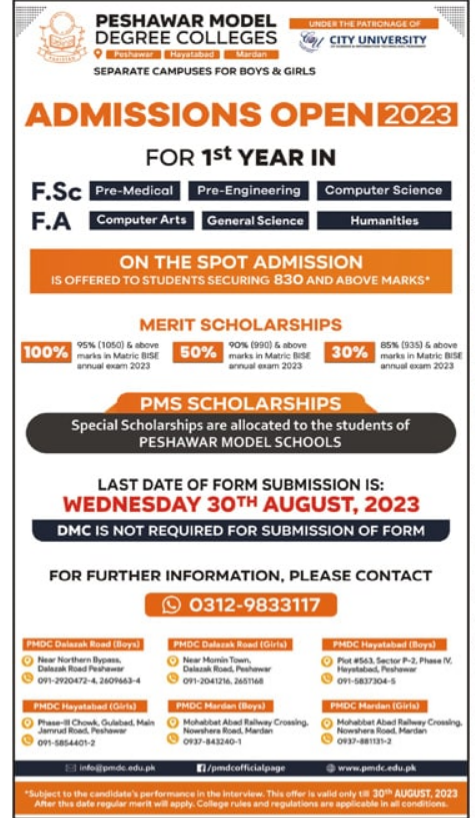 Eligibility Criteria
In order to be eligible for Intermediate programs at Peshawar Model Degree College, prospective candidates need to fulfill the following criteria:
Prospective students should have finished their secondary education (Matriculation or an equivalent qualification) from an officially recognized educational board.
The minimum required percentage specific program is 60%.
Application Procedure
Interested applicants have the opportunity to apply by adhering to the subsequent guidelines:
Acquire the admission form either from the admission office situated within the college premises or by downloading it directly from the official website (https://www.pmdc.edu.pk/).
Duly complete the form with precise and easily readable details.
Append all essential documents, encompassing academic certificates, proof of identity, and passport-sized photographs.
Submit the accomplished form, along with the obligatory documents, to the admission office of the college before the stipulated cutoff date.
Important Note: The deadline for submitting admission applications is August 30, 2023.