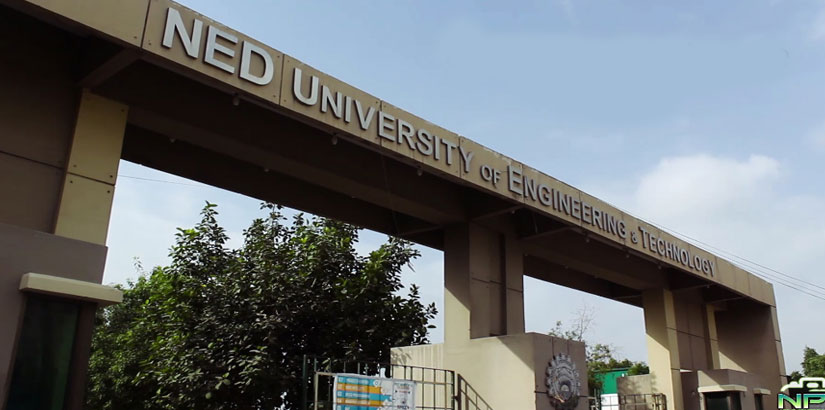 NED University's 27 th Convocation Held On Saturday
News Submitted By: Ilm Ki Dunya

18-Jan-2019

Views: 706
NED University celebrated its 27 the convocation on Saturday at its main campus. The event was graced with a presence of Sindh Chief Minister (CM) Syed Murad Ali Shah who was also chief guest of the event. Degrees of Masters, Bachelors and PhD were given to 1,885 graduates. NED University which was established in 1921 is one of the oldest higher education institutes of Pakistan. The Governor of Sindh Mr. Imran Ismail was presiding the event.
While addressing the graduates and attendants of the event, the Governor of Sindh commended the role of NED University in the development of higher education in Sindh and commended its excelling academic deliverance, he said, 'NED, with its qualified faculty and strong administrative infrastructure, has been at the forefront of research endeavors and contributing to Pakistan's economy'.
He went on to further appreciate NED University's contribution in transmitting education and inventing commercial products through research and innovation. NED University has made remarkable progress by installing Water Institute and by establishing the National Incubation Center. He said, 'I am confident that it will be a platform for creative work, for young graduates, industry and academia, and will play its role in introducing amazing innovative ideas'. The Governor congratulated the graduates and their parents and wished them the best of luck for their futures. NED University is premier Research University; it has initiated masters by Research and PhD programs and courses recently.
Federal Law Minister Seeks Turk Help for Establishment of Different Departments in Pakistani Universities
Federal Minister for Law and Justice Barrister Dr. Muhammad Farogh Naseem met with Head of Turkish Maarif Foundation on Tuesday. Talks about a possible collaboration between Maarif Foundation and Pakistani Universities for the establishment of departments for Science and Technology were held. After The meeting the Minister told the press, he said,' Turkish People are very close to our hearts and Pakistanis considering President Recep Tayyip Erdogan as their elder brother, the roots of our love for Turkey are historical in nature. The Muslims of the Subcontinent supported Turkish during Khilafat movement and then we supported Mustafa Kemal Ataturk, the founder of modern Turkey, out of our love and affection for Turkey. The Minister said that Pakistan's Universities should collaborate with Turkish Universities and research institutes and benefit from their expertise. It was also told to the press that the students seeking education from Pak-Turk Maarif Schools will receive scholarships to study in Top Turkish Universities.
The Pak-Turk Schools are most recently given under authority to Maarif Foundation. The Minister and attendants of the meeting were of the view that there is dire need to promote people to people interaction between Pakistan and Turkey. The Governments of both countries share congenial strategic and political relationships. This friendship relation must flourish further and collaborations should be made in educational fields especially. To be noted here, Supreme Court had handed over the management of Pak- Turk Schools to Maarif Foundation Turkey on 12/December/2018.