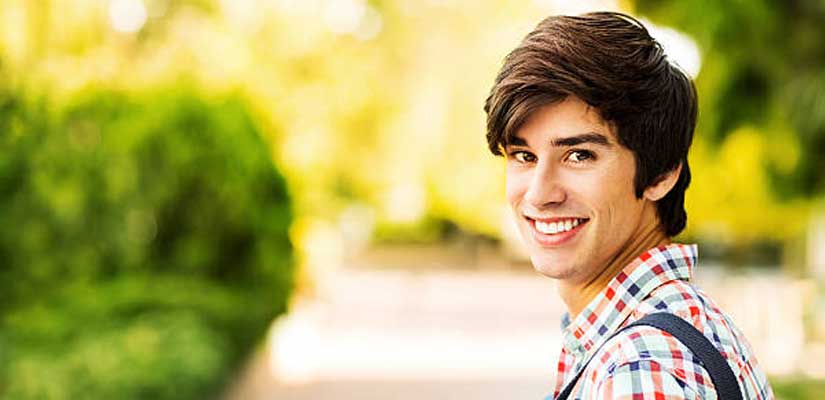 Hurry Up and Apply for the AIOU Matric and Intermediate Spring Admissions 2023
News Submitted By: Ilm Ki Dunya

14-Feb-2023

Views: 1321
We are here to inform you that the deadline to apply for the Allama Iqbal Open University spring admissions 2023 is approaching and all the candidates who haven't applied for the AIOU spring admissions 2023 can still send in their admission applications. The AIOU spring admissions are still open for the candidates interested in affirmative and cost-effective matric and intermediate study programs. All interested candidates should apply as soon as possible because you can talk to the university's admissions office about any admissions-related issue, which is impossible in the final days of admissions. AIOU matric and intermediate admissions are also open for the overseas students.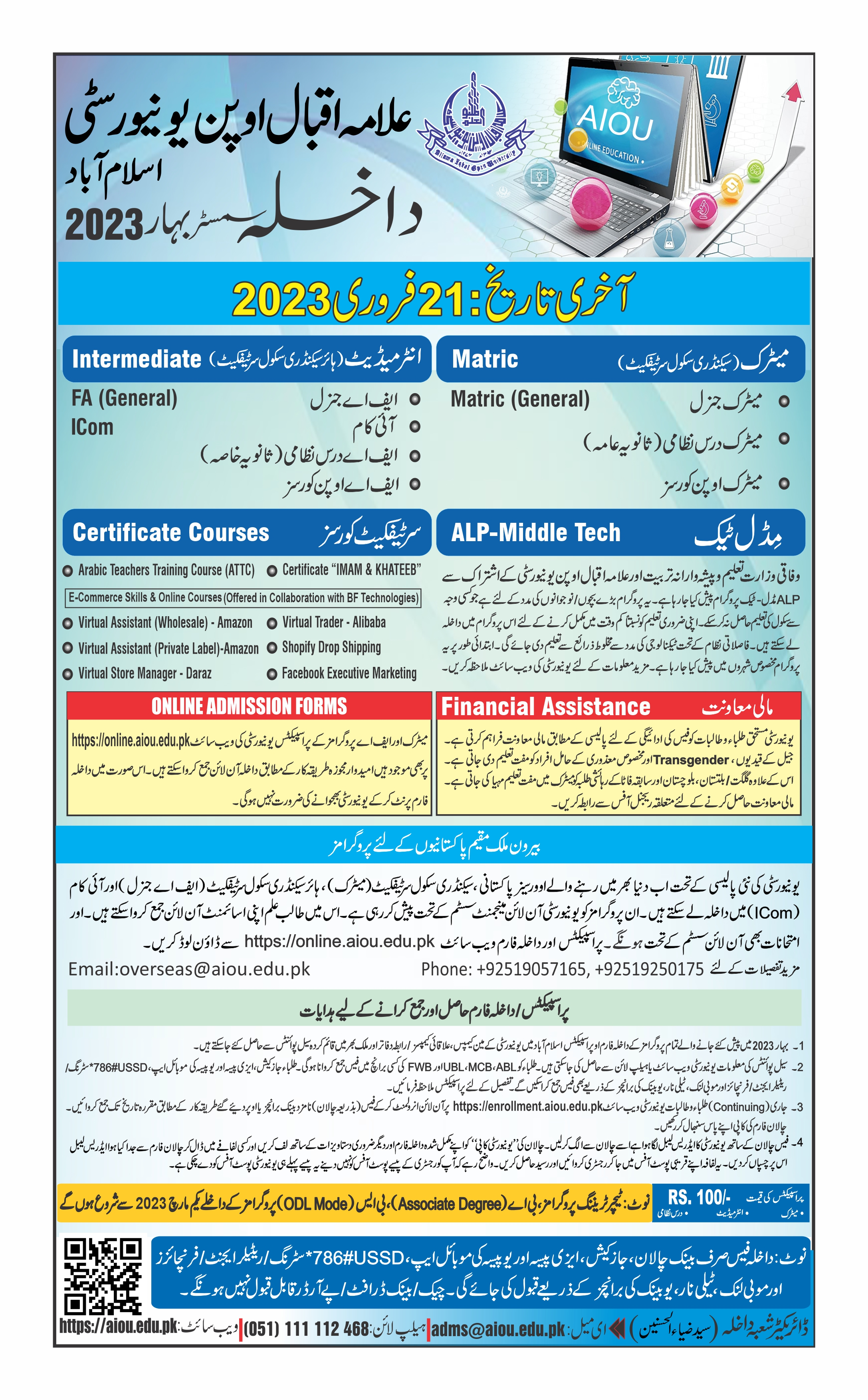 AIOU Matric Programs
Matric (General)
Matric Dars- E –Nizami (Sanvia Aama)
Matric (open courses)
AIOU Intermediate Programs
FA (General)
ICOM
FA Dars- E –Nizami (Sanvia Khasa)
FA (open courses)
AIOU Matric and Intermediate Admission Process:
You can obtain the prospectus by downloading it from the university's official website or by purchasing it for from the university's main campus and regional campuses in exchange of 100 rupees.
Complete the application form and provide all the required documents and biometric information.
Submit the application processing fee challan at any UBL, MCB, ABL, or FWB branch. It can also be submitted using jazz cash, easypaisa or other mobile wallet services.
The application processing fee is non-refundable.
Detach the address label for the university from the fee challan form. Put the university's copy of the challan form in an envelope and attach it to your application.
Attach the label with the university's address that you removed earlier to the envelope, and then send it to the Pakistan post office that is closest to you.
Be aware that the post office employee will not receive any compensation for sending your application.
AIOU Matric and Intermediate Admissions for Overseas Pakistani Students
Allama Iqbal Open University has announced that from now on according to their new policy, overseas Pakistani students can also apply for the matric and inter admissions. Overseas Pakistani candidates can get enrolled into matric, FA (general) and ICOM programs. These programs will be taught through AIOU's online management system and assignments will also be collected through the university's online management system. Overseas Pakistani students who will study these programs, will also have to attempt exams online through the learning management system. Prospectus and admission forms are available on university's website.
AIOU ALP-Middle Tech and Certificate Courses Admissions:
Allama Iqbal Open University spring admissions 2023 are still open for the certificate courses too. These professional certificate courses will help students in their career growth and are being offered in various fields. Additionally, AIOU is offering the ALP-Middle Tech program for the first time. This program is specifically designed for teenagers and young adults who were unable to complete their school education for a variety of reasons. Through an online learning management system, AIOU ALP-Middle Tech will assist these candidates in finishing their education in a shorter amount of time. This program is currently only available in a few Pakistani cities.
The names of AIOU certificate courses for which applications are being accepted are as follows:
AIOU Certificate Courses:
Arabic teacher training courses (ATTC)
Certificate "Imam and Khateeb"
Facebook Executive Marketing
Virtual Assistant (Private Label) - Amazon
Virtual Store Manager – Daraz
Virtual Trader – Alibaba
Virtual Assistant (Wholesale) - Amazon
Shopify Drop Shipping
AIOU Financial Aid:
AIOU is providing financial aid to eligible students (candidates will be selected in accordance with the university's policy).
Students who identify as transgender, prisoners and disabled candidates will not be required to pay any fee at AIOU.
Students from Gilgit/Baltistan, Balochistan, and former residents of the FATA will be eligible for free enrollment in matric programs.
Contact your regional AIOU office to apply for financial assistance.
Admission 2023 Deadline AIOU:
Admission Deadline for AIOU Matric and Inter Programs is 21st February 2023. The Allama Iqbal Open University started accepting spring admissions 2023 applications from 15th January 2023. Now the deadline is approaching really fast all the interested candidates are encouraged to apply as soon as possible. The AIOU admissions for the teacher training program will start from 1st March 2023.