Bahauddin Zakariya University, Multan has announced the submission dates for the Associate degree programs on 21st March, 2022. BZU has announced the dates to submit the application forms of the annual examination 2022 of Associate Degree programs; Associate Degree of Arts and Commerce for private candidates. The schedule of due dates for fee submission for BZU ADP Annual Exams 2022 is mentioned below:
1. The due date for the form submission with a single fee is 15-04-2022
2. The due date for the form submission with double fee is 22-04-2022
3. The due date for the form submission with a triple fee is 10-5-2022
4. The examination center for students who submit their application forms a week before exams with a triple fee will be Multan.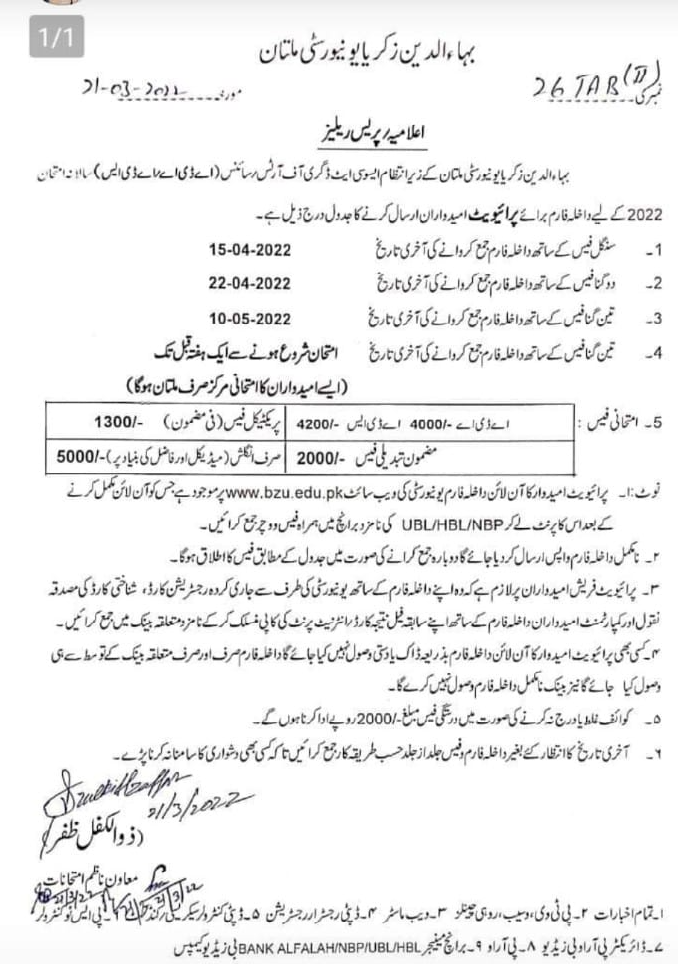 EXAMINATION FEE CRITERIA
The fee criteria for the annual examinations form submission for Bahauddin Zakariya University Associate Degree Exams 2022 is:
| | |
| --- | --- |
| Exam | Fee |
| 1. Associate Degree in Arts (ADP) | 4000/- |
| 2. Associate Degree in Science (ADS) | 4200/- |
| 3. Practical Fee (per subject) | 1300/- |
| 4. Fee for Subject Change | 2000/- |
| 5. Only English on the basis of Medical | 5000/- |
Note:
The private candidates can submit their application forms online at the official website of the university www.bzu.edu.pk.
After the completion of the online form students are required to submit their fee with their vouchers at the following bank accounts: NBP/HBL/UBL.
Incomplete application forms will not be entertained and to apply again the respective due date fee will be charged
The private fresh candidates have to submit their registration cards issued by their university and CNIC along with their application forms. The students who failed their past examinations are required to submit their previous printed report cards from the internet with their application forms.
A fee of Rs. 2000/- will be applied in case of incorrect or incomplete information.
To avoid any disturbance, students are requested to submit their respective application forms before the due date. Stay updated for BZU ADP Admission 2022.