More than 50 new Punjab police personnel are tested positive for coronavirus. Over 16 thousands tests have been conducted, Says IG Punjab. He also added that they are providing the best treatment to the employees. Police department is the most affected department among government sectors. For the past 3 days more than 50 new cases have been recorded. Including Lahore, the coronavirus cases urged to 607 in Punjab.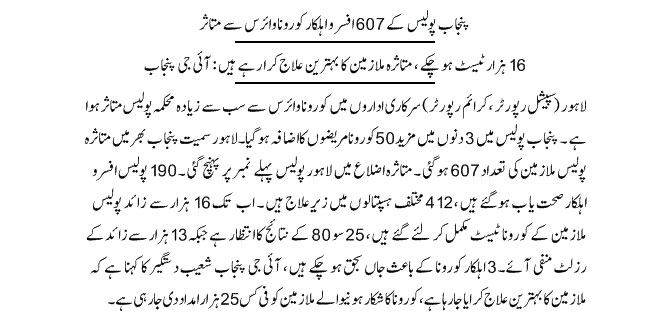 Among the infected districts Lahore is at top in infected number of cases of coronavirus in police employees. Around 190 employees have recovered from corona virus and 412 are under treatment in different hospitals. Around 16 thousand employees have completed the corona test so far. More than 2500 tested employees are waiting for the results whereas 13 thousands and more resulted negative. 3 police employees died due to coronavirus.
The first victim of coronavirus in Punjab Police was the STATION HOUSE OFFICER OF RAIWIND CITY. After the first case the department was forced to conduct the tests among the employees. The Raiwind area was the first locality which faced a complete shutdown. The law enforcing agencies specially police departments have faced this atrocity as they are deployed in infected areas and they come easily in contact with the virus. Senior police officials say they are taking necessary security measures to ensure the smooth working of the department. IG Punjab Shoaib Dastageer said "the employees are given the best treatment and 25000 aid is being provided to the affected employee". To check Latest Update of Punjab Police Jobs Adverisment and other jobs in Pakistan advertisment review our Job section.