At Ghazi University, following are the admissions criteria. All the seats are available on open merit basis.
Undergraduate program
B.Sc. (Hons.) Agricultural Sciences, BBA (Hons.), BS Botany, BS Chemistry BS Economics, BS English, BS Physics, BS Political Science, BS Sociology, BS Statistics, BS Urdu
Eligibility: Intermediate examination or equivalent securing at least 45% marks in aggregate.

Duration: 4 years (8 semesters)

Seats: 210 + Reserve Seats for Agriculture Sciences

Seats: 50 + Reserve Seats (Morning) and 50 (Evening) for others
BS Information Technology
Eligibility: F.Sc. pre medical or F.Sc. pre engineering or ICS

Seats: 50 + Reserve Seats (Morning) and 50 (Evening)

2 Seats reserved for DAE (CS & IT) 3 Years
BS Mathematics
Eligibility: Intermediate with Physics & Mathematics and a minimum of 2nd division (45% marks)

Seats: 50 + Reserve Seats (Morning) and 50 (Evening)
BS Zoology
Eligibility: Intermediate (Pre-Medical) with a minimum of 2nd division (45% marks) Merit determined Marks obtained in F.Sc. Pre-Medical + 20 marks Hafiz-e-Quran

Seats: 50 + Reserve Seats (Morning) and 50 (Evening)
Graduate Programs
Eligibility: Graduation in respective educational program with a min. of 45% marks

Majority of the disciplines have seats: 50 + Reserve Seats (Morning) and 50 (Evening). However, the quota varies from department to department
Scholarships
The university believes that equal opportunities of learning should be given to the students and provide numerous scholarship programs to its students. Following scholarships are available for its students:
Prime Minister's Fee Reimbursement Scheme for Less Developed Areas (Selected Regions)

HEC Needs Based Scholarships

Punjab Education endowment Fund (PEEF)
Academic Calendar
Spring Semester 2021
February 19 - February 23, 2021 Deposit of Dues

February 16, 2021 Commencement of Classes

April 09 - April 14, 2021 Mid-Term Examinations

April 20, 2021 Show up of Scripts/Display of Mid-Term Awards

June 04 - June 09, 2021 Final-Term Examinations

June 20, 2021 Submission of Results

June 22, 2021 Show up of Scripts

June 25, 2021 Monitoring and Evaluation of cases by Examination Committee

June 27, 2021 Display of Final-Term Awards

June 29, 2021 Final Result Declaration

August 21, 2021 Submission of Thesis (after 60 days of Final-Term Exams)

June 25 - September 30, 2021 Summer Vacation
gudgk Latest Admissions
Admission Posted on
11-Sep-2017
Last Date to Apply
28-Sep-2017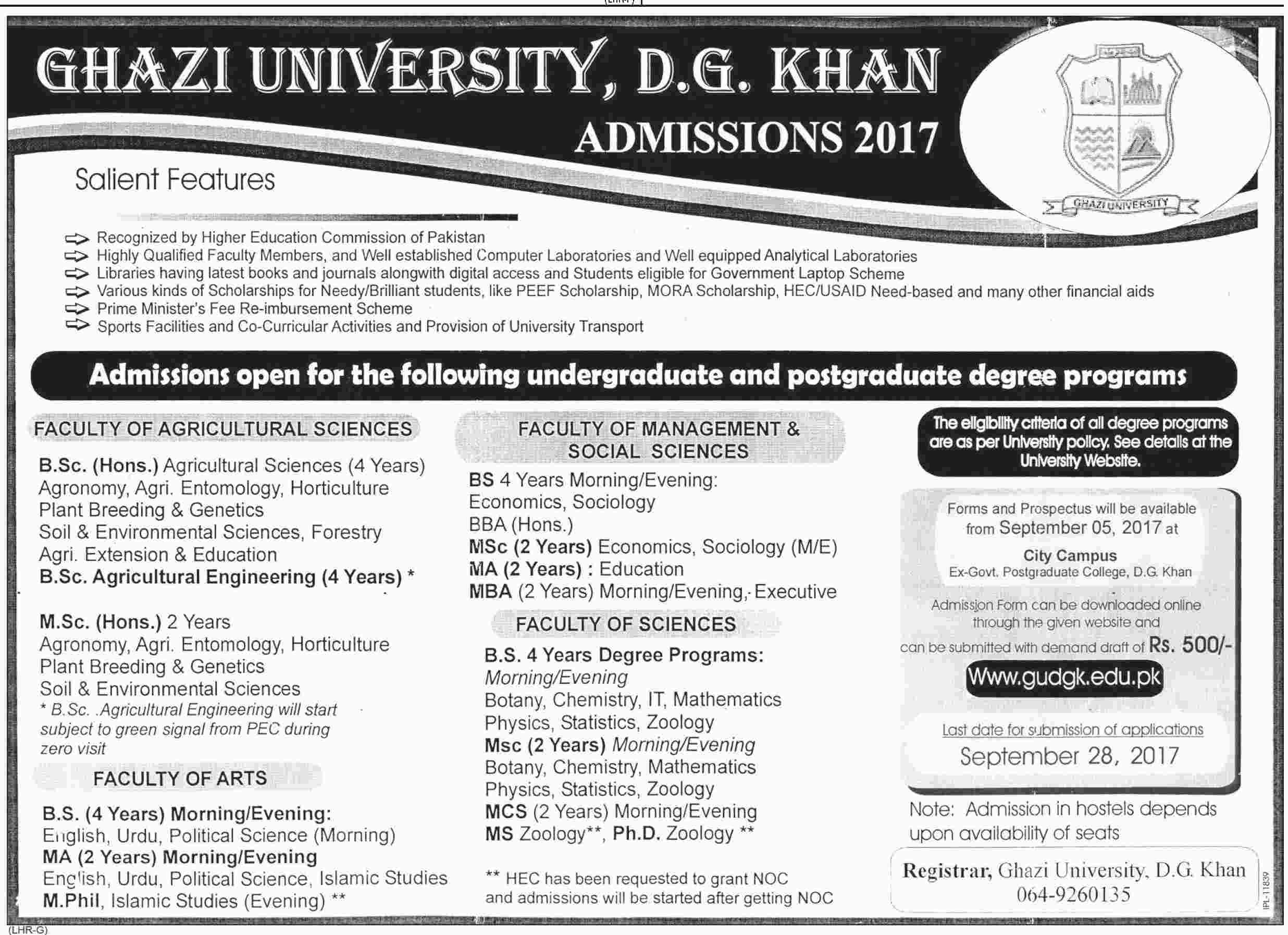 Free Admission Advice For Ghazi University Dera Ghazi Khan
Fill the form. Our admission consultants will call you with admission options.