The board exams of the 9th class are conducted by following the paper scheme and for the convenience of the students; the Board authorities issue the scheme every year. The candidates who intend to appear in the annual exams 2022 have to consider the pairing scheme during the preparation of the exams. According to the 9th class general science paper scheme 2022 various topics are included such as introduction and role of science, our life, and chemistry, biochemistry and biotechnology, human health and diseases - cause and prevention. The candidates are required to carefully go through the provided paper scheme of 9th science and then devise their strategy of obtaining good marks by focusing on the key topics.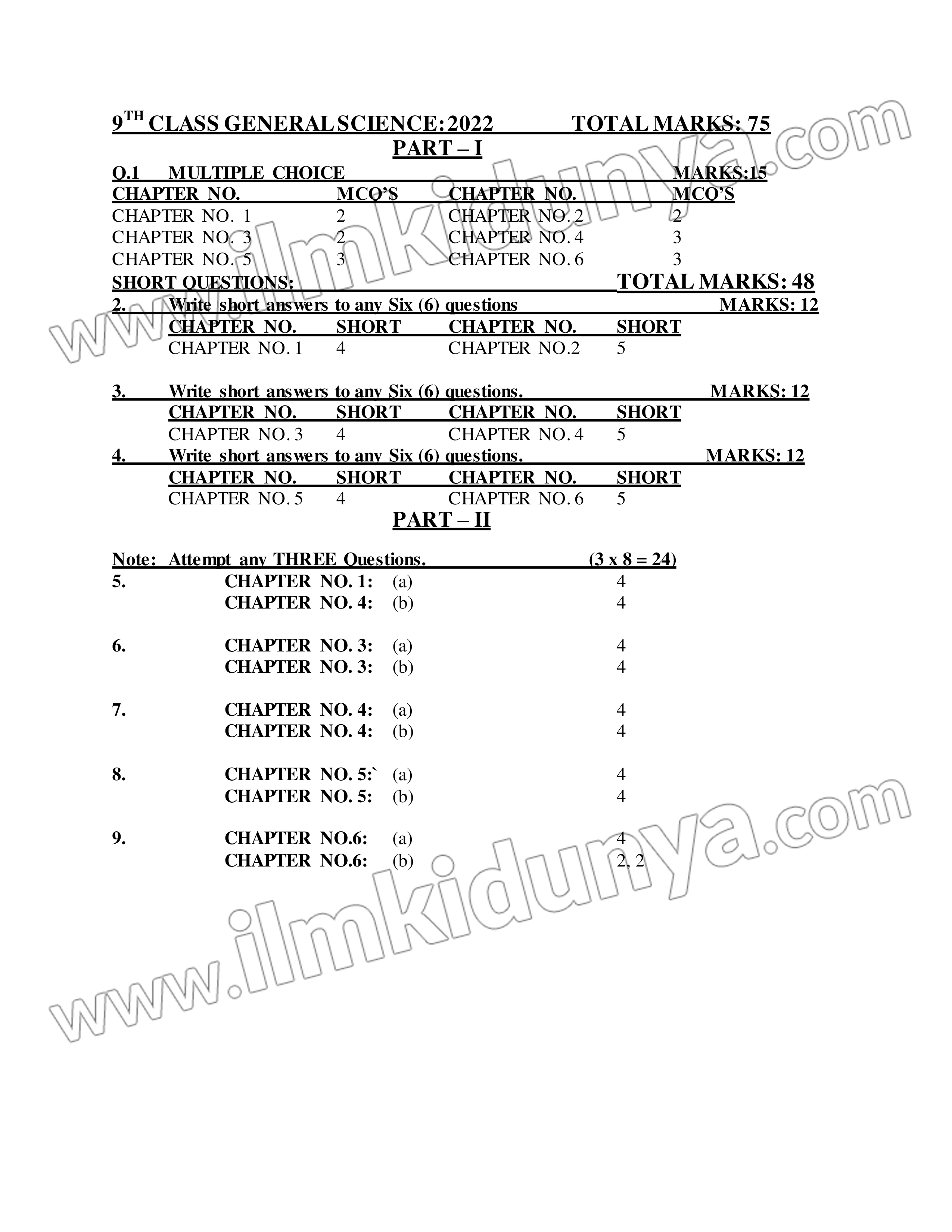 General Science Paper Scheme
The paper scheme makes it easy for the students to cover the content of the syllabus in less time by putting more effort into the important topics. So make sure to at least check the paper scheme once before the commencement of the exams to make the preparation easier.The portions of each chapter included in the 9th class general science pairing scheme 2022 have been specified so that the candidates can prepare accordingly. The authorities have made the same 9th general science assessment scheme for the Punjab boards such as BISE Lahore, BISE Gujranwala, BISE Sahiwal, BISE Sargodha, BISE Rawalpindi, BISE Faisalabad, BISE DG Khan, BISE Multan, and BISE Bahawalpur.
9TH CLASS GENERAL SCIENCE: 2022 TOTAL MARKS: 75
PART – I
Q.1 MULTIPLE CHOICE MARKS:15
CHAPTER NO. MCQ'S CHAPTER NO. MCQ'S
CHAPTER NO. 1 2 CHAPTER NO. 2 2
CHAPTER NO. 3 2 CHAPTER NO. 4 3
CHAPTER NO. 5 3 CHAPTER NO. 6 3
SHORT QUESTIONS: TOTAL MARKS: 48
2. Write short answers to any Six (6) questions MARKS: 12
CHAPTER NO. SHORT CHAPTER NO. SHORT
CHAPTER NO. 1 4 CHAPTER NO.2 5
3. Write short answers to any Six (6) questions. MARKS: 12
CHAPTER NO. SHORT CHAPTER NO. SHORT
CHAPTER NO. 3 4 CHAPTER NO. 4 5
4. Write short answers to any Six (6) questions. MARKS: 12
CHAPTER NO. SHORT CHAPTER NO. SHORT
CHAPTER NO. 5 4 CHAPTER NO. 6 5
PART – II
Note: Attempt any THREE Questions. (3 x 8 = 24)
5. CHAPTER NO. 1: (a) 4
CHAPTER NO. 4: (b) 4
6. CHAPTER NO. 3: (a) 4
CHAPTER NO. 3: (b) 4
7. CHAPTER NO. 4: (a) 4
CHAPTER NO. 4: (b) 4
8. CHAPTER NO. 5:` (a) 4
CHAPTER NO. 5: (b) 4
9. CHAPTER NO.6: (a) 4
CHAPTER NO.6: (b) 2, 2
General Science Paper Pattern of 9th Class 2022
You can get paper pattern of General Science 9th class according to Punjab Board examination in 2022 from the following table:
Objective Type

Subjective Type

Total Marks

15

Total Marks

60

Time Allowed

20 minutes

Time Allowed

2:10 hrs

Number of MCQs

15

Number of Questions

4

Distribution of Marks

Each MCQ of 1 mark

Distribution of Marks

Attempt 6 short questions out of 9 having 12 marks

Total

15 MCQs

Attempt 6 short questions out of 9 having 12 marks

Attempt 6 short questions out of 9 having 12 marks

Attempt 3 long questions out of 5 having 24 marks. Each question has two parts. Each part has 4 marks.

Total

60 marks