The paper scheme allows the students to learn about a specific pattern that Punjab Board authorities consider while preparing for the question paper of a subject. Moreover, the candidates are also required to check the paper scheme and follow it during the course of the annual exams. It assists the students in the preparation phase so that they can focus on the important topics and get good marks in the exams.
According to the 9th class English paper scheme 2023, the topics included in the exams are comprehension, vocabulary, and grammar composition (letters, story writing, translation, dialogue writing, tenses, and comprehension of passage). The candidates are informed to check the issued 9th syllabus of a particular subject by the board officials and strengthen their exam preparation accordingly.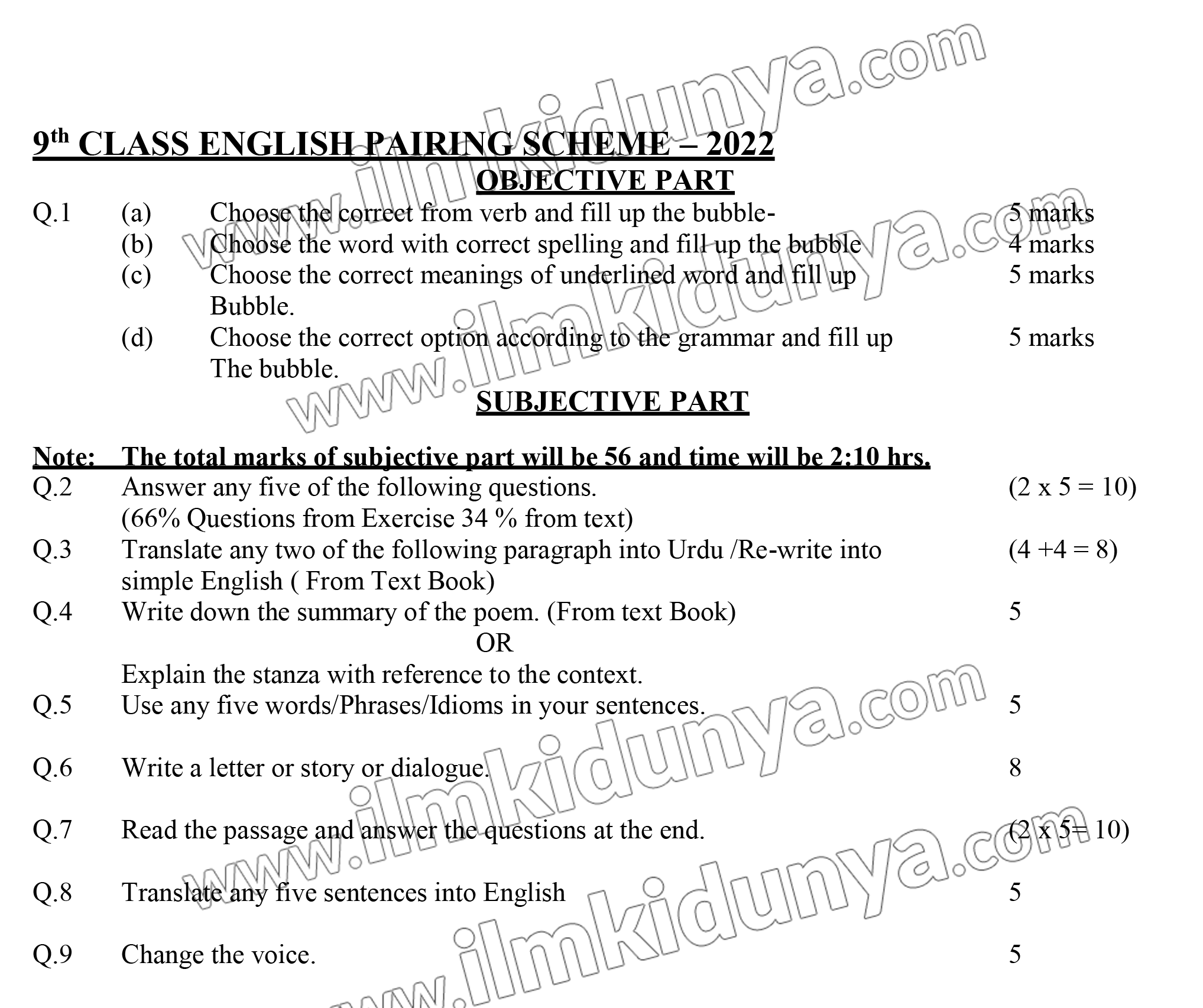 OBJECTIVE PART
Q.1 (a) Choose the correct from verb and fill up the bubble. 5 marks
(b) Choose the word with correct spelling and fill up the bubble 4 marks
(c) Choose the correct meanings of underlined word and fill up Bubble. 5 marks
(d) Choose the correct option according to the grammar and fill up the bubble. 5 marks
SUBJECTIVE PART
Q.2 Answer any five of the following questions. (2 x 5 = 10)
(66% Questions from Exercise 34 % from text)
Q.3 Translate any two of the following paragraph into Urdu /Re-write into simple English ( From Text Book) (4 +4 = 8)
Q.4 Write down the summary of the poem. (From text Book) 5
OR
Explain the stanza with reference to the context.
Q.5 Use any five words/Phrases/Idioms in your sentences. 5
Q.6 Write a letter or story or dialogue. 8
Q.7 Read the passage and answer the questions at the end. (2 x 5= 10)
Q.8 Translate any five sentences into English 5
Q.9 Change the voice. 5
English Pairing Scheme 2023
As the board exams are approaching so the students are required to do the preparation of the exams wholeheartedly by considering the paper scheme of english. English is often considered a difficult subject so in such cases it is beneficial for the students to go through the paper scheme at least once to prepare in a better way. For all the nine Punjab educational boards that include BISE Lahore, BISE Gujranwala, BISE Sahiwal, BISE Sargodha, BISE Rawalpindi, BISE Faisalabad, BISE DG Khan, BISE Multan, and BISE Bahawalpur the same 9th english pairing scheme is applicable.
English Paper Pattern of 9th Class 2023
The 9th class English pairing scheme 2023 is provided to the students by which they can learn about the main topics that must be prepared before appearing in the annual exams 2023 of the 9th class. From the following table, you can get to know the paper pattern of English 9th class according to Punjab Board examination in 2023:
Objective Type

Subjective Type

Total Marks

19

Total Marks

56

Time Allowed

20 minutes

Time Allowed

2:10 hrs

Number of MCQs

19

Number of Questions

8

Distribution of Marks

Group of 5 MCQs

Distribution of Marks

Attempt 5 questions out of 8 from English Textbook having 10 marks

Group of 4 MCQs

Translate 2 paragraphs out of 3 OR rewrite in simple English having 8 marks

Group of 5 MCQs

Choice between Story and Paraphrasing having 5 marks

Group of 5 MCQs

5 Phrases/Idioms out of 8 having 5 marks

Total

19 MCQs

Choice between Letter, Story or Dialogue having 8 marks

Passage comprehension having 10 marks

Translate 5 sentences out of 8 OR Write 10 sentences on any topic having 5 marks

Active Passive voice having 5 marks

Total

56 marks