The University of Karachi has announced the B.Com Part-I (External) Annual Examination Result 2019. The students that had appeared in the examination can check their result through the list issued by the controller of examinations. The list contains information about the seat numbers through which the students can get to know about the passing status in the exams. Previously the university had also announced the result of the B.Com Part II external exams. According to the issued list, 3,571 candidates were registered and 3,250 students appeared. While only 69 candidates were declared pass with first division, and 466 candidates with second division. The overall pass percentage of the exams was 16.49%.
KU B.Com Part I Result
As per the gazette issued, 2,111 candidates were registered for the B.Com Part-I external exams while only 1867 appeared. 177 have been declared pass while 1690 candidates failed in the exams. The overall passing percentage of B.Com Part I external exams is 9.58%. After the announcement of the result, it is readily available for the students as they can directly access it.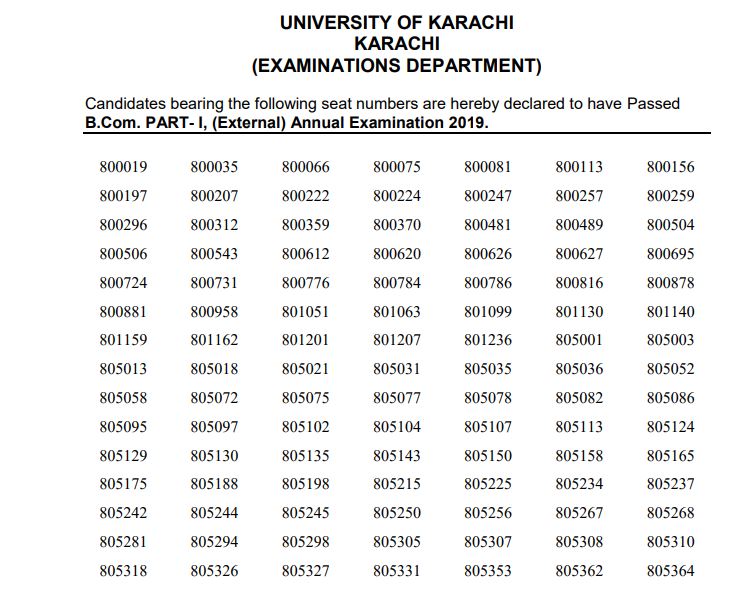 Important Notes
Following are some of the important instructions for the candidates that appeared in the B.Com external annual exams
The university has the right to modify, change, or alter the result in case, found to be wrongly compiled or computed and the candidates will not be able to object against this reserved right.

In the case of any typographical error, the university has the authoritative power to correct mistakes when it comes to notice and in such a situation the candidates cannot take any action against the university

Marks certificates of the candidates have been issued. If the candidates do not receive the certificates then they can contact the Controller of Examinations for the issuance of the marks sheet.