The University of Health Sciences has made an important announcement regarding the MBBS and BDS merit list. Earlier the university had announced the admissions for the MBBS and BDS degree programs and after the completion of the admission process, the first merit list had been issued for the candidates so that they can get to know about their selection status. Moreover, it is mandatory for the candidates to meet all the requirements issued by the UHS.
MBBS and BDS Merit List 2021
To facilitate the selected students for the MBBS program the last date for the submission of the fee at their respective medical and dental colleges has been extended till 28th December 2021. The second provisional selection list will be displayed for both MBBS and BDS degree programs on 29th December 2021. The candidates are notified to check the issued UHS merit list 2021 and submit the admission fee as per the prescribed schedule. In the case of any delay in the submission of the fee, the admission of the candidate will be canceled. So it is mandatory to fulfill the mentioned requirements in order to secure admission.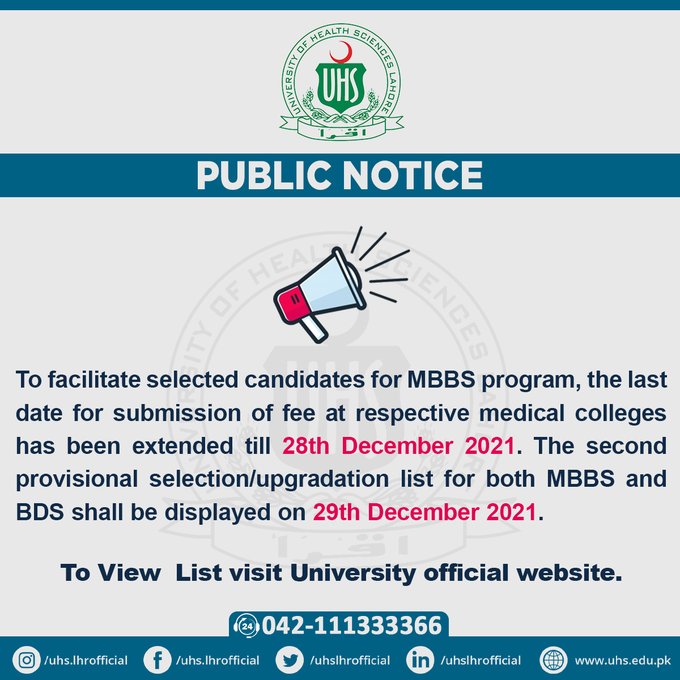 UHS Admissions 2021
Apart from the MBBS and BDS the UHS also offers admission to the students in the various undergraduate degree programs. The university had earlier announced the admission schedule and issued the first, second, and third merit lists for the offered undergraduate programs. The candidates that had applied in the offered admissions can check the merit list and are required to submit the admission fee in order to confirm their admission. In the case of any query, the candidates can also submit the complaint to the UHS according to the given schedule. After the due date, no application form will be entertained by the university authorities.