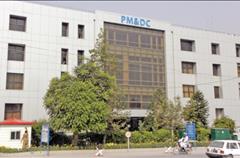 Pmc Issued Medical And Dental Colleges Admission Schedule 2022-23
News Submitted By: Ilm Ki Dunya

19-Jul-2022

Views: 5646
The Pakistan Medical Commission has notified the admission schedule for medical and dental colleges for the year 2022–23. The national admissions scheduling committee of the Pakistan Medical Commission held a meeting on July 15th, 2022 (Friday). The committee has announced the admission dates for the public and private sector medical and dental colleges for the years 2022–23. The notification also stated the official date for the announcement of MDCAT results.
Medical and Dental Colleges Admissions 2022-23
As per the notification by the Pakistan Medical Commission, the dates for admissions in medical and dental colleges have been announced. PMC has decided that the admissions for the public sector medical colleges will start on October 17th, 2022 and should be concluded by December 31st, 2022, including the special seats. Whereas, admissions to public dental colleges should conclude by February 14, 2023.
The notification also states that the private medical colleges should conclude their admissions by January 31, 2023. However, the private dental colleges should conclude their admission process by February 28, 2023. The commission has also notified that the medical colleges are at liberty to initiate the admission process any time after May 2022.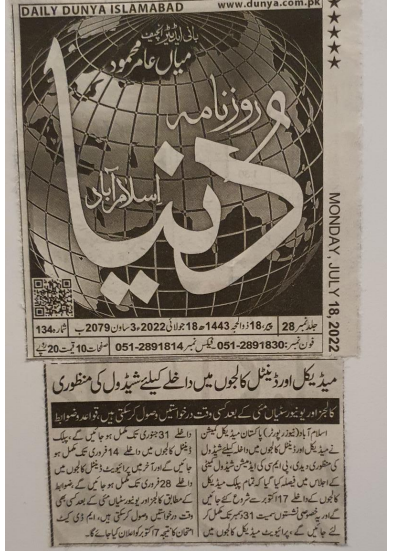 PMC MDCAT Results 2022
The Pakistan Medical Commission has declared the official date for the MDCAT 2022 results. The students are notified that on October 7, 2022, the official results for the Medical and Dental College Admissions Test will be declared. More than 200,000 students have applied for the MDCAT across the country. The students who have given the MDCAT Test in the year 2021 can take their equivalence to the 2022 tests and apply for the medical and dental colleges.
The eligibility criteria for admissions to medical and dental colleges include MDCAT. Students who have attained more than 65% marks are eligible to apply for medical colleges, whereas candidates with 55% are eligible to apply for dental colleges.