This is major news for all 9th class students in Punjab! In a recent announcement, the Punjab Boards Committee of Chairmen (PBCC) has rescheduled the 9th class board exams of all educational boards in Punjab that were previously postponed. All boards of Punjab were initially conducting the 9th board exams according to the scheduled exam dates, but due to recent political chaos, the PBBC decided to postpone the exams. Now, the PBCC has announced the new dates for those three board exams that were postponed. All students can access the 9th class revised date sheet for all educational boards in Punjab from this page. All educational boards of Punjab will also send date sheet updates to their candidates through SMS.
Why Were the Exams Postponed?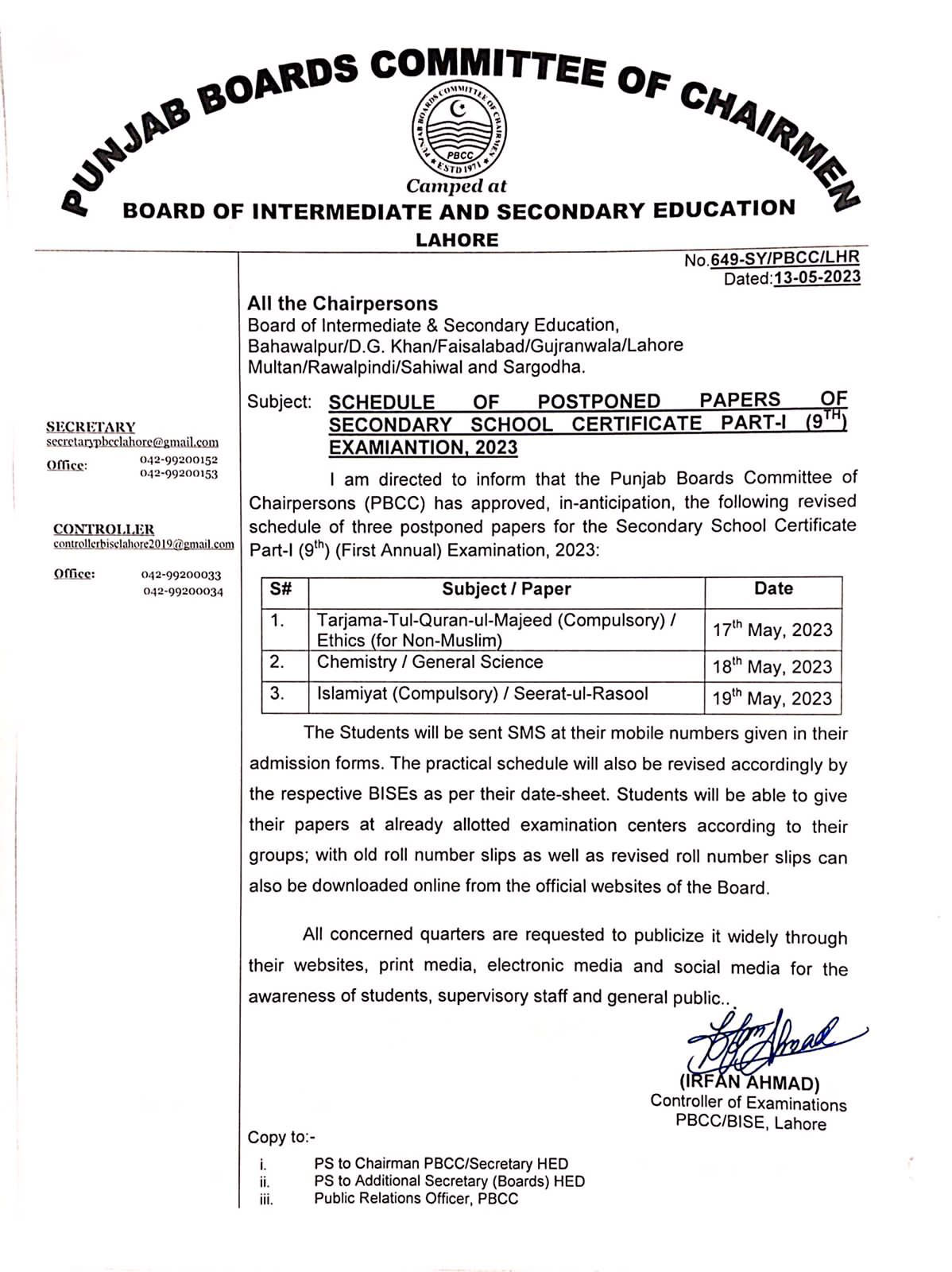 Despite the board issuing the date sheet, the exams were ultimately postponed due to the political chaos in the country. The political situation within the country, such as the arrest of Imran Khan, the chairman of the Pakistan Tehreek-e-Insaf, had caused a great deal of uncertainty, which led to the respective educational boards making the decision to cancel the exams in order to ensure the safety of the students. Now that the situation is under control, the PBCC has decided to conduct the postponed exams. All students will be able to give their 9th class papers at the already allotted examination centers according to their groups with old roll number slips. New/revised roll number slips can also be downloaded from the respective board's website.
Which 9th Class Exams Were Postponed?
All educational boards in Punjab were initially conducting the 9th class board exams exactly according to the released date sheet. However, due to the political mayhem in Pakistan, the PBCC decided to postpone the following 9th class exams:
Tarjama-Tul-Quran-ul-Majeed (Compulsory)/ Ethics
Chemistry/ General Science
Islamiyat (Compulsory) / Seerat-ul-Rasool
According to the announcement, the exams will be held for all educational boards in Punjab, including Lahore, Faisalabad, Gujranwala, Rawalpindi, Bahawalpur, Sahiwal, Multan, and DG Khan. The PBCC has also stated that they will revise the practical exam date according to the respective BISE's date sheet. Students can easily access the PBCC's announcement of the revised 9th class date sheet for 2023 from this page.
Revised Schedule of 9th Class Board Exams
The above-mentioned 9th class exams were supposed to be conducted on May 10, 11, and 12, 2023, respectively. Now that the situation is under control, the PBCC will conduct these exams according to the following schedule:
| | | | |
| --- | --- | --- | --- |
| Sr. No. | Subject Name | Old Dates | New Dates |
| 1 | Tarjama-Tul-Quran-ul-Majeed (Compulsory)/ Ethics | 10th May 2023 | 17th May 2023 |
| 2 | Chemistry/ General Science | 11th May 2023 | 18th May 2023 |
| 3 | Islamiyat (Compulsory) / Seerat-ul-Rasool | 12th May 2023 | 19th May 2023 |