Education Minister of Sindh, Saeed Ghani has announced that this year no exam will be conducted for the improvers and repeaters in Sindh. He notified the former decision of the federal government and the national coordination committee. According to that, the students that have been failed in 40% of subjects will be considered pass. Those fail in more than 40% of subjects will not pass to the next class and they have to reappear in the exam to secure the passing marks.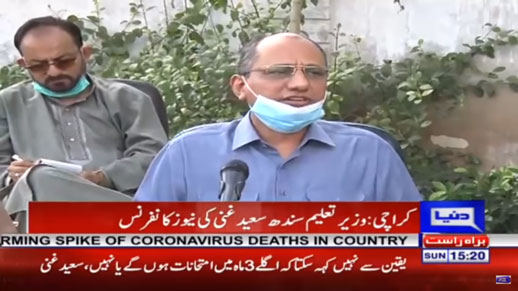 Exams For Improvers And Repeaters
Saeed Ghani said, later on, it was decided to pass all the students because in the previous case the government will have to provide the chance to the students so that they can reappear in the exam. In this uncertain situation, there is nothing to say whether it will be possible to arrange the exams for improvers and repeaters or not. So currently the possible solution is to cancel these exams for this year.
The students that have submitted their registration form do not need to resubmit them as there will fee be utilized in the next year. Based on this fee they can appear in the exam but their academic year will be wasted. He stated that the same formula will be applied to the private candidates that are associated with the educational institute.
Impact On The Students
This decision has a great impact on the educational career of the students. Each year many students aspire to get admission in the medical and engineering colleges. They avail the chance of the improvement exam to meet the eligibility criteria of their desired fields. As the education minister of Sindh has declared special exams will not be held so the students will not be able to appear in these exams.To get good marks in MDCAT take classes.
Promotion Policy For Matric And Intermediate
Students of the 9th class and 11th class will be promoted to the next grade. The students of 10th class and 12th class will be passed on their accumulative percentage based on the previous exam of 9th and 11th class and 3% additional marks will be given to them. Speaking about the exams, the education minister said that all the students from class one to class 12 will be passed to the next class.