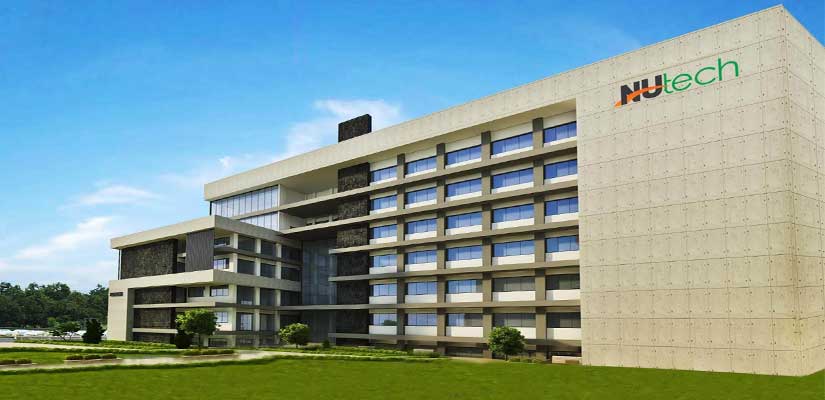 National University of Technology NUTECH Islamabad is accepting Admissions for Various Bachelor Degrees
News Submitted By: Ilm Ki Dunya

01-Mar-2023

Views: 1085
National University of Technology (NUTECH) has announced the latest admission for undergraduate programs in various fields. Interested candidates can apply for the programs of their choice until March 7, 2023.
The undergraduate programs being offered by the university include BS Civil Engineering, BS Mechanical Engineering, BS Electrical Engineering, BS Computer Engineering, BS Computer Science, BS Software Engineering, BS Artificial Engineering, and BET.
The university is renowned for providing quality education and state-of-the-art facilities to its students. The programs have been designed to provide students with practical knowledge and hands-on experience to prepare them for their professional careers.
The admission process for these programs is highly competitive, and the university is looking for candidates who demonstrate academic excellence, leadership potential, and a passion for their chosen field.
Prospective students are advised to visit the university's website to get more information about the admission process, eligibility criteria, and program details. They can also contact the university's admission office for further assistance.
National University of Technology is committed to providing quality education and producing graduates who are equipped with the skills and knowledge necessary to make a positive impact in their respective fields. Students who are interested in pursuing their undergraduate education at NUTECH are encouraged to apply before the deadline of March 7, 2023.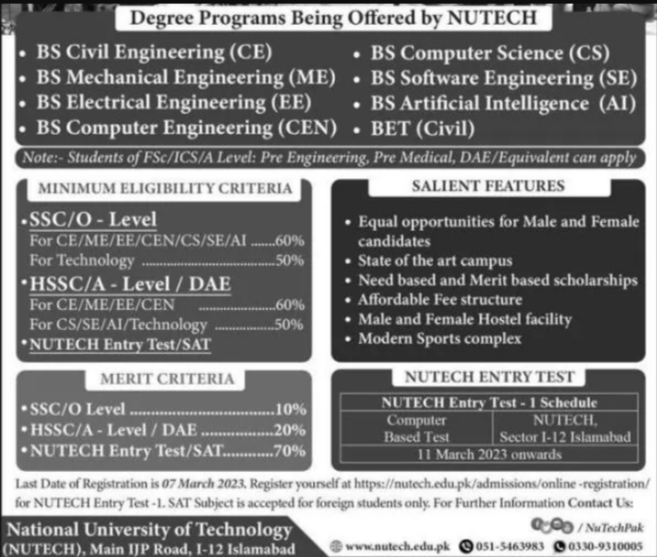 Eligibility Criteria of National University of Technology
SSC/O-Level
for CE/ME/EE/CEN/CS/SE/AI ......60%
for Technology .................50%
HSSC/A-Level/DAE
For CE/ME/EE/CEN ...............60%
For CS/SE/AI/Technology ........50%
NUTECH Entry Test/SAT
Merit Criteria of NUTECH
ssc/O level .............. 10%
HSSC/A Level/DAE ..........20%
NUTECH Entry Test/SAT ......70%
NUTECH Silent Features
Equal opportunities for Male and emale candidates
State of the art campus
Need based and Merit Based scholarships
Affordable Fee structure
Male and Female Hostel facility
Modern Sport Complex
NUTECH Entry Test Schedule
Computer Based Test
11 March 2023 onward