The Ghulam Ishaq Khan Institute of Engineering Science And Technology (GIKI) is pleased to announce the commencement of admissions for the Fall 2023 semester in multiple BS programs. Aspiring students who wish to pursue their undergraduate studies in esteemed engineering and technology disciplines can apply before the deadline of 15 June 2023. Ghulam Ishaq Khan Institute of Engineering Science And Technology has established itself as a premier educational institution, offering high-quality education and fostering innovation and excellence in the field of engineering.
About Ghulam Ishaq Khan Institute of Engineering Science And Technology
GIKI is a leading institute dedicated to providing world-class education in engineering and technology. Established in 1988, it aims to produce skilled professionals equipped with the knowledge and expertise required to tackle the challenges of the modern world. With its state-of-the-art facilities, distinguished faculty, and emphasis on practical learning, GIKI has earned a well-deserved reputation for producing exceptional graduates who excel in their respective fields.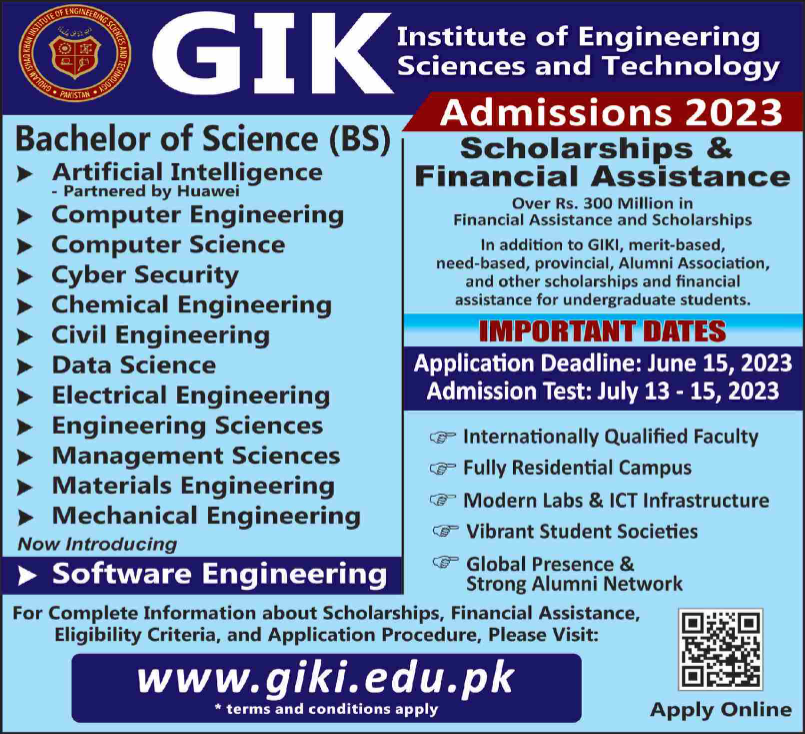 Admissions Open for following BS Programs
The Fall 2023 admissions at GIKI cover a wide range of BS programs to cater to diverse academic interests. Prospective students can choose from the following programs:
BS Materials Engineering (Manufacturing)
BS Materials Engineering Nanotechnology
BS Mechanical Engineering
BS Engineering Sciences
BS Artificial Intelligence
BS Data Science
BS Cyber Security
How to Apply in GIK Insitute of Engineering and Science and Technology
Applicants who meet the eligibility criteria can follow the simple application procedure outlined below:
Online Application: Visit the official website of GIKI and navigate to the admissions portal.
Program Selection: Choose the desired BS program from the list of available options.
Application Form: Fill out the online application form with accurate and complete information.
Document Submission: Upload the required documents, including academic transcripts, certificates, and a recent passport-sized photograph.
Application Fee Payment: Pay the prescribed application fee through the provided online payment methods.
Submission: Submit the completed application form along with the supporting documents and payment confirmation.
Eligibility Criteria of GIKI University
Applicants must fulfill the following eligibility criteria to be considered for admission to GIKI:
Completion of Higher Secondary School Certificate (HSSC) or an equivalent qualification.
Meeting the minimum percentage requirement specified by GIKI for the respective program.
A-Levels or International Baccalaureate (IB) students must provide equivalence certificates issued by the Inter Board Committee of Chairmen (IBCC).
Appearing in the GIKI Admission Test (GAT) or the SAT Subject Test(s) relevant to the chosen field of study.
Foreign applicants or those with foreign qualifications must provide necessary documents, including a valid passport, visa, and equivalent qualification certificates.
Aspiring students are encouraged to visit the official GIKI website for detailed information on eligibility criteria, admission requirements, and program-specific details.
Don't miss this opportunity to be part of GIKI's esteemed academic community. Apply now for the Fall 2023 admissions and pave your way towards a successful career in engineering and technology.