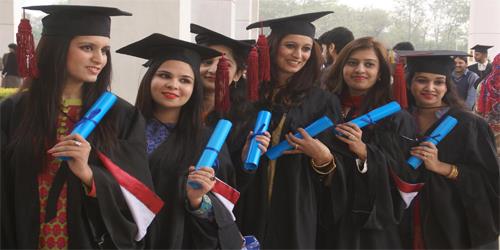 Bahria University granted 427 degrees in convocation
News Submitted By: Ilm Ki Dunya

23-Nov-2015

Views: 1103
The Bahria University, Islamabad Campus, organized its 14th Convocation at Jinnah Convention Centre yesterday.
The chairman of Higher Education commission Professor Dr. Mukhtar Ahmed, participated as the chief guest on the occasion, granted the degrees to the graduating students of PhD, Masters as well as of the Undergraduate programmes.
Overall, 427 degrees were granted to the aspirants of Undergraduate and Graduate of Management Sciences Department, Humanities and Social Sciences Department, Computer Sciences Department, Earth and Environmental Sciences Department, Electrical Engineering Department and Software Engineering Department.
Dr. Mukhtar Ahmed together with the vice Chancellor of Bahria University (R) Tanveer Faiz, HI (M), granted 12 gold medals while 12 silver medals to the different students who secured the top positions in their respective programmes.
Sohail Jabbar was granted with the PhD degree in Computer Sciences Department. Usman Ali, Yahya Farooq, Tayyaba Sharif, Jawad Ahmed, Asma Malik and Syed Anis ul Hassan from Management Sciences, Fatimah Mehmood and Sehrish Khan of Environmental Sciences, Nimra Tariq of Social Sciences, Mehwish Pervaiz of Software Engineering, Muhammad Majid Mubarik of Computer Sciences, as well as Malik Atif of Electrical Engineering was granted with the gold medals in their respective programmes.
While talking to the partakers of the event, Dr. Mukhtar Ahmed congratulated the graduating aspirants on their superb success and also praised the Bahria University, Islamabad Campus, for offering the brilliant knowledge and abilities to the aspirants in their respective disciplines that will allow them to lead a professionally satisfying life.
In the end, the Principal of Bahria University congratulated the degree holders as well as their parents and also wishes them prosperous future. He also appreciated the students who attained the on the basis of their exceptional performance.