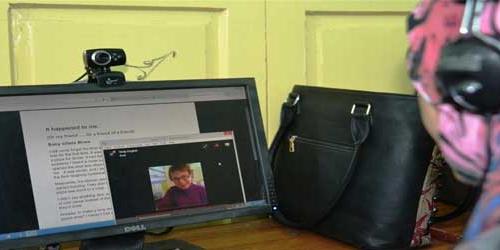 Afghan Girls learning online in Taliban Birthplace
News Submitted By: Ilm Ki Dunya

18-Jan-2018

Views: 1207
KANDAHAR: Hassina is one of those lucky girls who she receives online education from teachers in the United States and Canada every day in Kandhar Institute of Modern Studies.
KIMS is a private education center that has been operating over the past couple of years in the Taliban birthplace of Kandahar. It facilitates the education of women and girls through online tuition from teachers in the U.S. and Canada.
"The times have changed and it is a fact that education for women is vital for Afghanistan's development," Hassina,a proud student of KIMS.
Hassina, who uses the Skype application to talk to her overseas tutors, called upon all girls in Kandahar and Afghanistan at large to be allowed to learn and serve the nation.
"I come here every day and regularly attend classes with the online education center to develop my knowledge and I am calling upon all girls to do so, because Afghanistan's development and progress depend on women's education," she said, adding that she and her classmates are thankful to the Kandahar Institute of Modern Studies (KIMS).
Kandhar, Few years back:
Taliban militants, who emerged in the southern Kandahar province in the 1990s and extended their reign across 90 percent of Afghanistan until their dethroning in late 2001, had outlawed education for girls and confined women to their houses. Kandahar, once the spiritual capital of Taliban militants, experienced bloody terrorist attacks ranging from suicide car bombings, targeted killings including attacks on civilians, and girls suffering acid attacks, for more than a decade.However, the situation has changed over the past few years and Kandahar has come to be regarded nowadays as one of the relatively more peaceful provinces in insurgency-plagued Afghanistan.
"Without doubt, it was a dream of every girl and boy in Kandahar, the former stronghold of the Taliban, to go to school one day.We now live in peace and foreign teachers from thousands of miles away teach us online at international standards," the joyful Hassina asserted.
Ahsanullah is hopeful:

Teachers from Canada and the U.S., according to Ahsanullah Ahsan the head of KIMS, have been teaching the girls via online facilities in Kandahar free of charge and so far 550 girls have benefited from the project.
The online education center of KIMS in Kandahar is looking forward to expanding its activities in the future, Ahsan said with hopefulness