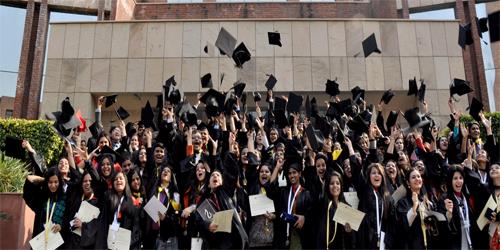 778 students awarded degrees in Bahria University's 12th convocation
News Submitted By: Ilm Ki Dunya

21-Dec-2015

Views: 1193
The Bahria University Karachi has organized its 12th Convocation on Sunday at the university campus where Chief of Naval Staff Admiral Muhammad Zakaullah was the chief guest of the ceremony and he granted the degrees to the aspirants of PhD, postgraduate as well as of undergraduates programme.
Total, 778 degrees were granted to the undergraduate and graduate aspirants of the departments of Management Sciences, Humanities & Social Sciences, Computer Sciences, Earth & Environmental Sciences, Electrical Engineering, and Software Engineering as well as of Professional Psychology.
Respected Chief Guest Muhammad Zakaullah together with the Principal of Bahria University, Vice Admiral (R) Tanveer Faiz, granted 17 gold medals to Nawal Naeem, Hina Farheen, Naila Shabbir, Faleha Farooqi, Sadaf Riaz and also Shaheera Haroon from the department Management Sciences; Sana Yasir from Social Sciences Department; Ayesha Waris and also Shahzad Usmani from Electrical Engineering Department; Syed Azeem Akhter, Shoaib Malik and Muhammad Usman from Computer Sciences Department; Conrad Walter D'Silva and Ambreen Yousuf Ali from Software Engineering Department; Anam Fatima Sheriff, Syeda Affifah Saud and Syeda Anam Fatimah from the Psychology Department.
Furthermore, they also granted 11 silver medals the different aspirants who secured top positions in their respective programmes.
During his address on the occasion, Respected Chief Guest, Muhammad Zakaullah congratulated the graduating students on their brilliant success and praised the authorities of the University for conveying the knowledge abilities to the graduated students in the particular disciplines, saying that it will permit them to lead a professionally gratifying life.
During his address, the Rector of the university said that universities had great responsibility of producing the quality graduates who can contribute positively to improve the research culture in the country, and acknowledged the role of HEC in the promotion of higher education, both in government as well as in private sectors.
This ceremony was attended by the large number of senior naval officers, industrialists, businessmen and also by the parents of graduating aspirants.