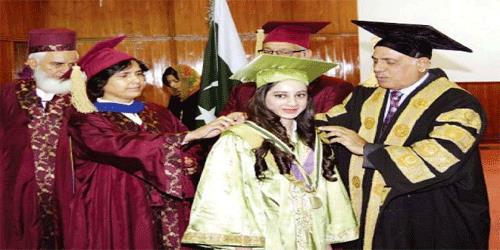 1,370 students awarded degrees and medals at FJWU convocation
News Submitted By: Ilm Ki Dunya

09-May-2016

Views: 2534
Rawalpindi: Without our institutions become the hub of creating innovative ideas and promote culture of tolerance, we cannot move forward on the path of progress and success as well. Education, particularly the women education is actually the key to prosperity of nation.
This statement was given by Governor of Punjab and Chancellor Malik Muhammad Rafique Rajwana, during his address at the 15th convocation of the Fatima Jinnah Women University (FJWU) that was organized on Friday at the Jinnah Convention Centre, Islamabad to honor the academic accomplishments of exceptional attainments of its brilliant students in their academic career.
---
FJWU chancellor and Punjab governor presented degrees to the graduating students of Bachelors, Masters, M.Phil and Ph.D. levels.
---
Total 1,370 aspirants were awarded degrees this year including one Ph.D, 130 M.Phil, 669 masters as well as 570 bachelors. Furthermore 30 gold and silver medals were also granted to the aspirants for showing outstanding performance in their respective programme.
First Women Bank and Media Development Trust Mishal, Pakistan also awarded gold medals to scholars.
---
Gold and silver medals were also awarded to the top scorers of bachelors, masters and M.Phil programmes.
---
While talking to students on the occasion Malik Muhammad Rafique Rajwana acknowledged the students as well as their parents on their success and said that the young generation is the future of our country.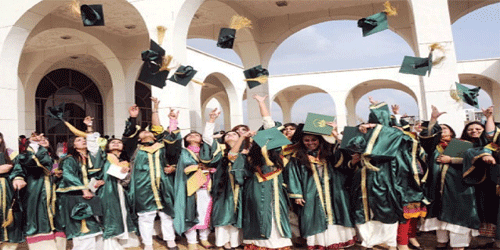 During her welcome address Vice Chancellor Professor Dr. Samina Amin Qadir showed her gratitude towards FJWU chancellor and Punjab governor for his presence in the convocation. She said that the university is doing its best to deliver the international exposure to its students and its faculty as well by encouraging the participation in national and in international conferences as well.
The chairperson of Higher Education Commission (HEC) Dr. Mukhtar Ahmed also spoke on the event. He said that women varsities are actually playing a very important role in the education who is the future leaders of a sophisticated, progressive and prosperous Pakistan.
The Bank of Punjab (BoP) has also awarded cash prizes for the top scoring candidates in the Department of Business Administration those were: Mamoona Naz, Komal Shahzad (BBS), Aqsa Murtaz (BBA) and also Sidra Babar Khan (BBA).
A gold medal was introduced by the First Women Bank in 2005. That gold medal goes to Noor Saba Muneeb for getting good scores in Department of Economics.
Media Development Trust (Mishal Pakistan) also awarded four gold medals to the top scoring aspirants of Media and Communication Studies.